If we profess to be Christians, we should treat people like Christ treated them. Right?
Today there was a Supreme Court ruling that struck down the Defense of Marriage Act (DOMA) and further opened the door for same-sex marriages in the states that will allow them.  In our home state, California, a case regarding Prop 8 was also ruled on that removes restrictions on same-sex marriages. All signs indicate that same-sex marriage will be widely recognized within 3-5 years.
So how does this affect followers of Christ? It is grievous to see how some Christians cope with this cultural shift. In extreme cases, people respond with hate and violence on one end, and complete passivity and moral relativity on the other.
Both sides are missing the mark. 
We're all sinners, not just gay people
As Christians, we can agree that same-sex marriage is not the route God instructed us or intended for us. However, we can also agree that an unhealthy heterosexual marriage is not the route God instructed or intended either. Surely the word "unhealthy" set off a few alarms in your head just then.
That's right, "unhealthy marriages" are sinful.
Every marriage is unhealthy in some way, none of us have it figured out. We are all in desperate need of God's constant intervention in our lives on every level.
Sure, I'm bothered by the recent judicial actions, but I'm more bothered by marriages between professing Christians that are missing it. My point is this, we need as much grace and forgiveness as any person on the planet. We have no right to condemn people based on our moral merits (Luke 18:9, Romans 3:10). We do, however, have a right and obligation to love people like Jesus loved them.
How now shall we live?
It's very "Christianese" to say "love people as Jesus did", but what does that really translate into discussing and knowing same-sex married couples?
A hypothetical example: If I love my friend dearly and have a relationship with him, I will have the depth of friendship to call him out on sin – let's say he's addicted to pornography. Even with deep relationship, I still run the risk of making him defensive and damaging our friendship. Amplify the damage if I don't communicate in love or with the help of the Holy Spirit.
If my friend has no desire to kick his porn habit, my reprimand will be fruitless – at least immediately. If I communicate in love, I have a chance to show him how porn will cause pain and destruction over time (all sin has this effect). This gives him and me a jumping-off point where we can start accountability and discipleship – all by the grace of God.
Without relationship and his hunger to know something better, we would have had no chance.
Jesus' Example: Zacchaeus
Zacchaeus was a sinner and a corrupt tax collector (starts at Luke 19:1). When he heard Jesus was coming to town, he wanted to get a look but couldn't see because he was short; so he climbed a tree.
Jesus saw him, called him down, and asked to stay that night at Zacchaeus' place. All of the religious people scoffed at Jesus for dining with this great sinner.
That night, Zacchaeus recognized Jesus' lordship, committed to helping others, confessed of his cheating, and promised to make it right! Jesus isn't recorded as saying anything to invoke this behavior. Just the person of Jesus, his love, and the power of witnessing his work was plenty to give Zacchaeus a complete turnaround.
We all need Jesus
Not one is righteous aside from Jesus. Like Zacchaeus, We ALL need Him. We ALL need His intervention and love. The question is not if we need Him, or if same-sex marriages need Him. The question is, who will receive Him? Zacchaeus received Jesus, yet he was a filthy, cheating, lying tax collector. How did he receive?
Those who respond to Christ have at least a few things in common. Keep these in mind as you work out your own faith, but also keep this in mind as you seek to "fix" other people who are lost (you can't fix anyone, by the way).
Hunger – Zacchaeus was curious to know who this miracle man was, so he sought Jesus out. Why seek a meal if you're not even hungry?
Humility – Jesus asked for a place to stay, and Zacchaeus obliged. Zacchaeus wasn't too proud to let Jesus in.
Honor – In the presence of Jesus, Zacchaeus was compelled to right the wrongs and confess what he had done. He was honoring the person of Jesus because in His presence, Zacchaeus' sin was sharply contrasted and simply couldn't stay.
Get hungry, pray for hunger of others
For you Christ-following, Christ-modeling couples: please don't get hung up on calling out sin. Get hung up on Jesus. Get hung up on showing who Jesus is and what he does. Let him use your marriage to show how loving and nourishing he is. Then trust the Holy Spirit to give you opportunities to build relationship with people who need an introduction.
It's not up to us to sell the Gospel – it's up to us to present it and get out of the way. May those who are seeking salvation find Jesus, and may His followers be beacons: showing His love and leading the way for those who are lost and hungry.
---
Many others have written great responses to the events of today. I'd encourage you to read the following articles:
Have you heard of the The 31-Day Pursuit Challenge?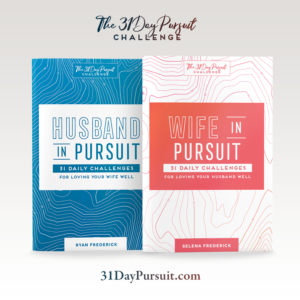 Every marriage begins with passion, purpose, and pursuit, but few stay that way. That's why we wrote Husband in Pursuit and Wife in Pursuit Together, they make what we're calling the 31-Day Pursuit Challenge. Couples are encouraged take the challenge together. We're already starting to hear stories of transformed marriages! Are you up for the challenge?