It was the summer of '99 and he looked at me and thought, "Ohhhhhh she's lookin' so fine"…..Ok ok, enough with my attempt to bust the rhymes over here.
The 24th is a special day in our relationship. It's the day we had the DTR talk (Defining The Relationship); the day Ryan and Selena began "dating".After a summer campfire with some friends, he was leaving for football camp the next morning, and I was leaving for the ocean for family vacation.
As he drove me home, we talked. Got our teenage feelings for each other out in the open and spent the next few hours in his car talking and killing his car battery so that my mom had to drive him to his friends house at 2am so he could leave for football camp in the morning – oh yeah, that was also the first time he met my mom.
Needless to say, our first "date" was pretty unforgettable.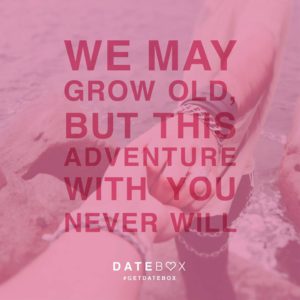 First Dates & Forgettable Ones
Looking back, first dates always seemed more exciting and even a little crazy. Don't get me wrong, we love being parents but date nights often become limited based on funds and time (can I get an amen?).
Date nights nowadays might include a movie we both want to see (maybe…), grabbing dinner and then heading home. We'd probably drop around $60 on the night and although it's awesome to get some time with each other – a movie hardly leaves room for conversation. And while dinner may be tasty – the conversation is usually a catch-up on your to-do list for your life and dinner is quickly eaten so you don't miss the previews.
Fun? Sure. Forgettable? Totally.
Honestly, Ryan and I would love to treat you to a date night. There's just no way to do that for all of our readers.
:-)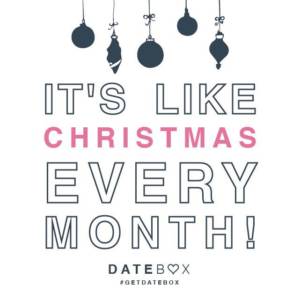 Actually, that's a lie… as of today we have a great way to give you one free date night that's truly awesome (i.e. it's not a BOGO coupon to the local Subway).
Ok, so we aren't all meeting up for a group date or anything, but we sort of are and the first one is on us!
Oh, the other cool part about this date is that it comes to you in the mail. Guys, you don't have to plan once you purchase (Hint: this would also be a great Christmas gift for you and your wife, just sayin').
It's called Datebox.
Before you click on the link, here's a snapshot of what Datebox is: it's a thoughtfully curated box that has a themed-date idea worth approximately 10x's it's cost. Although it's a subscription, it's really so much more than that.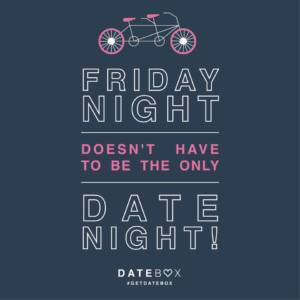 Datebox has a team that goes through tons of different products and picks out the fun, appealing date ideas and assembles them for you and sends them right to your doorstep for less than the cost of a movie and dinner – every month!
If you've followed our blog for awhile, you know that Ryan and I are always posting about how necessary it is to spend intentional quality time with your spouse, and DateBox is one creative way too achieve this.
It sounds "salesey" I get it, definitely not my goal…
But to have a date night pre-planned, with a consistent cost = one less decision for this busy momma and (no doubt) hard-working daddy. Plus, it's probably something we may not choose on our own which adds another element of adventure as well as make a few unforgettable memories while bonding more with your spouse.
Our first box actually ships in November, but because the date is so awesome, we wanted to give you a sneak peek of what's included.
November Datebox Preview
Chef's Culinary Experience: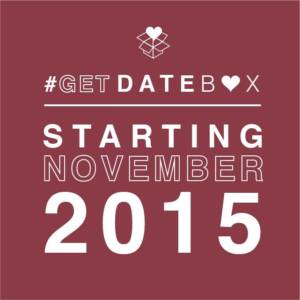 Chef instructed video culinary course (in partnership with The Culinary Institute of America)
Recipe, fresh ingredients & supplies to enjoy the course
Fine dessert & an exciting game to play together after dinner.
Relationship building activity
Fun conversation suggestions
DATE VALUE – $300
YOUR PRICE – $34.95 FREE 
Why Datebox?
Honestly, a big part of our relationship has always consisted of adventure and new experiences. It's helped keep conversations fresh and our souls close.
Intentional quality time; undistracted, prepared, curated and brought to you! 
We would like to invite you to try it out with your first month/date being on us! Just enter the coupon code FIERCEMARRIAGE at checkout (it turns green once you use it).
On the 24th of every month we will give you a review of what's in this month's Datebox; our thoughts, and we would love to hear yours! It's a date that is special to us and we hope and pray that this is a tool that will help you rekindle some of those crazy first dates or at least begin adding adventures to your marriage.
Why are we promoting Datebox?
The founder of Datebox is a good friend (and supporter) of ours. Ryan has had many conversations about what's in store for the future at Datebox and it's exciting. They already have a few thousand sign-ups and honestly, it promotes one of the pillars that we believe are important for a gospel-centered marriage: intimacy in conversation and new experiences together.
Here's what to do:
1) Go to GetDatebox.com and select your Plan
2) Create an Account
3) Enter FIERCEMARRIAGE into the coupon field at Checkout (it will turn green once it verifies the code)
4) Wait for your box to arrive and then open it together
5) Bonus points: On the 24th of each month, Ryan/I will post a review of said box and we would love to hear your comments about how your date went.
Stay fierce!