What does it mean to be truly intimate with another human? In Genesis 2 (before the Fall), it says that they were "naked and not ashamed". So much of how we experience closeness with each other in marriage is determined by our sense of vulnerability and how we're perceived when we're truly exposed.
Is it possible to be fully known by someone and still fully loved? The good news is that you already are totally known and loved by God when you are in Christ. The question then becomes one of how we can love each other with the same relentless vulnerability, grace, and devotion we've experienced in Christ.
In today's episode of The Fierce Marriage Podcast, we explore what it means to be truly naked and unashamed. We also spend a few minutes answering common questions from readers regarding emotional intimacy, how to maintain closeness when you have young kids, and how to have tough, honest conversations even when you feel divided.
We hope you'll join us and listen in!
A Reminder…
If we've earned it, we'd greatly appreciate it if you would SUBSCRIBE, RATE, and REVIEW this podcast on your app of choice. It takes 30-60 seconds, and it helps get the word out about gospel-centered marriage. Thank you!
Do you have a question?
Just visit https://fiercemarriage.com/podcast to submit a question or story; we'll take care of the rest.
---
We'd love your help!
If our ministry has helped you, we'd be honored if you'd pray about partnering with us. Those who do can expect unique interactions, behind-the-scenes access, and random benefits like freebies, discount codes, and exclusive content. More than anything, you become a tangible part of our mission of pointing couples to Christ and commissioning marriages for the gospel. Become a partner today.
Become a Fierce Marriage Partner Today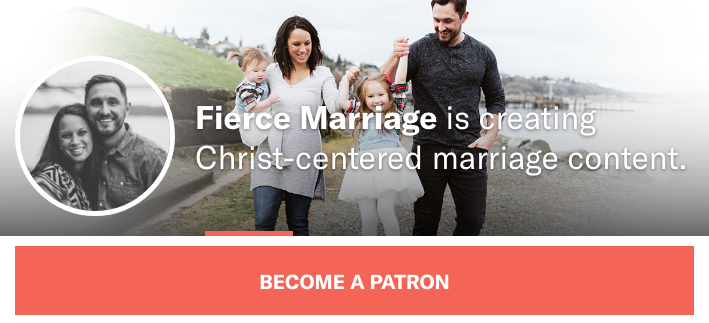 ---