Before I get started, I didn't intend the title of this article to feel like clickbait (vis-à-vis alluding to a huge battle without actually saying what it is). Sorry about that, sort of. To be honest, this issue is so important to your marriage—so foundational—that I'm fine with sharing this message however possible (plus we have very little to gain monetarily by having you land on our website… no ads!). Ok, enough of that.
This post/podcast is about pride and humility, and I don't think they're discussed nearly often enough in the context of marriage. Pride is the root of every sin, conflict, and moment of discord in life and marriage. We must address it. Conversely, humility is the beginning of wisdom and order, it's the gateway to a life that is flourishing on every level.
If you're a podcast person, the episode is embedded below and available on iTunes, Spotify, and most places podcasts are available. Listeners will get a more in-depth look into our own struggles in this area, and we'll have a more extensive conversation around this topic.
If you'd prefer to read, continue below!
Pride, Humility, and Your Marriage
To be clear, the below is meant to be a semi-thorough recap of our podcast discussion. It's not an in-depth study of pride and its effects on marriage. I sincerely hope it gets you thinking in a slightly different way about how pride and humility may be factors in your relationship. We must start by asking a question:
How is pride present in your marriage?
We've found that the best way to figure this out is by asking a few, smaller questions like:
What's the motivation for your decision(s), big and small?
Think of a few recent decisions, dig around and think about why you made them (alone or together).
Do they puff you up or build your spouse up?
I like to think of "puffing up" as any activity that is meant to make me look better than someone else.
What/who are your decisions centered around?
Your motivation helps define why you make a decision, but the what/who help you realize how the decision was made and executed. Prayerfully? With accountability and council? Did you discuss it openly with each other?
How have you seen pride affect your marriage?
Think back, has pride caused discord in your marriage in the past? How?
Defining Pride and Humility
This brief test makes defining humility a breeze: humility is Christ-centered instead of me-centered (Luke Willbanks). The dictionary says it's a modest or low view of one's own importance; humbleness. You get the idea.
Someone smart once said, "Humility isn't thinking less of yourself, it's thinking of yourself less." I like that. As someone made in God's image, you are valuable; but that doesn't mean you should be the center of the universe.
Pride, on the other hand, is the sense "I can get what I want on my own" (The Fall, Genesis 3). Here's what scripture has to say:
"Humble yourselves, therefore, under the mighty hand of God so that at the proper time he may exalt you, casting all your anxieties on him, because he cares for you. Be sober-minded; be watchful. Your adversary the devil prowls around like a roaring lion, seeking someone to devour. Resist him, firm in your faith, knowing that the same kinds of suffering are being experienced by your brotherhood throughout the world. And after you have suffered a little while, the God of all grace, who has called you to his eternal glory in Christ, will himself restore, confirm, strengthen, and establish you. To him be the dominion forever and ever. Amen."

1 Peter 5:6–11
But we're not without an exemplar! Thankfully, we have the ultimate model for humility: Jesus, our servant Savior: (Phil. 2:1-11)
So if there is any encouragement in Christ, any comfort from love, any participation in the Spirit, any affection and sympathy, complete my joy by being of the same mind, having the same love, being in full accord and of one mind. Do nothing from selfish ambition or conceit, but in humility count others more significant than yourselves. Let each of you look not only to his own interests, but also to the interests of others. Have this mind among yourselves, which is yours in Christ Jesus, who, though he was in the form of God, did not count equality with God a thing to be grasped, but emptied himself, by taking the form of a servant, being born in the likeness of men. And being found in human form, he humbled himself by becoming obedient to the point of death, even death on a cross. Therefore God has highly exalted him and bestowed on him the name that is above every name, so that at the name of Jesus every knee should bow, in heaven and on earth and under the earth, and every tongue confess that Jesus Christ is Lord, to the glory of God the Father.

Philippians 2:1–11
Jesus didn't count himself as God when dealing with us. Not in the prideful sense; he didn't lord his authority over us, but rather, he got low, emptied himself, was complete obedient, served and loved those around him.
How can we exercise humility in marriage instead of pride?
This part is easier said than done. You can't set out to "achieve humility". Humility a paradox… as soon as you think you're humble, you're not. You can't muster self-forgetfulness, it's a gift. All you can do is focus on Jesus, make him the greatest joy and desire in your life, and let the saving knowledge of Christ transform your heart. Here are a few ways to help make much of Christ, in life and marriage both:
Desire Christ first and most. The Bible is the most fool-proof way to hear God's voice. Read God's Word like it's required for life because it is!
Fix your gaze on God's will instead of your own. Ask, "How would God want me to respond to this situation?" Etc.
Focus on actively loving and serving your spouse. A quality, healthy marriage takes intentionality and effort. We have a pair of devotionals that you may find helpful to that end.
Be fast to apologize and quick to forgive. Recognize that neither of you is perfect (especially you).
Take a genuine interest in your spouse's life. Learn to care for your husband or wife by caring about what they care about.
Friends, I hope this proves beneficial for you. I know we've learned a ton by taking a healthy, introspective look into our own lives. Let's walk together and make the humble routes so beaten and worn that they become the primary paths taken in marriage.
Questions:
What is one area of your marriage where you can practice humility instead of pride? How might that look?
Please let us know in the comments below!
---
We'd love your help!
If our ministry has helped you, we'd be honored if you'd pray about partnering with us. Those who do can expect unique interactions, behind-the-scenes access, and random benefits like freebies, discount codes, and exclusive content. More than anything, you become a tangible part of our mission of pointing couples to Christ and commissioning marriages for the gospel. Become a partner today.
Become a Fierce Marriage Partner Today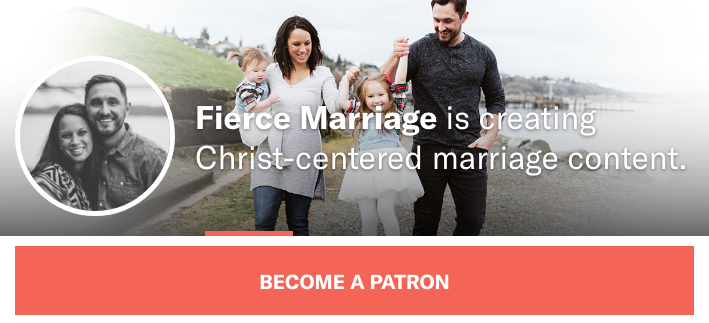 ---