The following is an excerpt adapted from Francine Rivers' devotional A Path to Redeeming Love: A Forty Day Devotional. 
My husband, Rick, and I have known one another since fifth grade. We went out once during our freshman year of high school and then dated others while remaining good friends. When I was in my senior year of college and Rick was serving as a marine in Vietnam, we reconnected through correspondence. When he came home, I took one look and thought, Wow, he sure grew up. He thought the same about me. We fell in love fast and hard and married a year after he returned. 
You'd think two people who were friends for so long would know each other well. But childhood friendship and a steamy courtship are far different than marriage.
Both sides battle weary
The realities of life together quickly surfaced. We both dragged baggage into our relationship. We experienced high highs and low lows. By the time we'd been married sixteen years and had three children, we were veterans of domestic warfare, both sides battle weary, with thoughts of divorce as a truce. 
Where do you find a good mediator? Someone who loves you both and wants to help you put the pieces of your lives back together? We'd both stopped believing in "happily ever after." 
Jesus as Rescuer and Mediator
Rescue is done for someone. Redemption also comes through the work of another— someone willing to pay the price for our mess so we can start fresh. Jesus rescued us from the captivity of our sins. He redeemed us before His Father through His death and resurrection.
Reconciliation is different. It involves the cooperation of all parties involved. Reconciliation brings an end to estrangement and rebuilds a relationship. Jesus acted as a mediator and made the way for our reconciliation with Father God, and He can do the same thing in human relationships. 
How do you put God in the middle of a crumbling marriage?
Rick and I both knew God had to be at the center of our marriage or we wouldn't make it to our seventeenth anniversary.
But how? When? We had no time for or with each other.
We lived in a small rental house with three active, school-aged children. Rick had his own business and had to be in his office by 7:00 a.m. He worked six and a half days a week. When did we have time together? In bed. Sex may be a momentary "fix," but it's not a solution to serious relational problems. 
How do you put God in the middle of a crumbling marriage, especially when you're both brand new to faith and still have doubts?
Rick said we needed to spend time talking, and the only time we could be alone together to do that uninterrupted would be in the wee hours before he headed for work.
That meant I had to get up much earlier than I normally did. I decided it was worth a try. Rick got up even earlier and fixed the coffee. We sat and read the Bible, talked, and prayed together. That time in the morning built our faith, rebuilt our individual lives, and blessed our marriage. 
True and lasting reconciliation
Two people can be reconciled when they enter a love triangle: with God at the top and the two individuals at the bottom points. As we each draw closer to God, we naturally draw closer to one another. 
We still get up before dawn and have our time in the morning together. We recently celebrated our fiftieth wedding anniversary. True reconciliation is shown in changed lives and relationships. 
Adapted from A Path to Redeeming Love: A Forty-Day Devotional Copyright © 2020 by Francine Rivers. Published by Multnomah, an imprint of Random House, a division of Penguin Random House LLC, on October 13, 2020.
Have you heard of the The 31-Day Pursuit Challenge?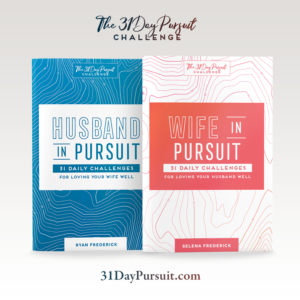 Every marriage begins with passion, purpose, and pursuit, but few stay that way. That's why we wrote Husband in Pursuit and Wife in Pursuit Together, they make what we're calling the 31-Day Pursuit Challenge. Couples are encouraged take the challenge together. We're already starting to hear stories of transformed marriages! Are you up for the challenge?