It feels wrong to start this blog post with advice to "quit trying so hard". Since the beginning, this blog has been about encouraging couples to fight fiercely for their marriages—to never give up and to never give in. I still believe the latter, but I think it needs clarification.
Why clarify when encouraging couples to fight for their marriages seems so obviously good? Clarity is needed because calling couples to simply "fight more and fight harder" is a crushing command without the right truth fueling the fight.
So many husbands and wives we speak with have fought harder. They have fought more. Many have fought longer than you or I will ever understand. Yet, their marriage is still broken. Their spouses refuse to listen, return, and fight alongside them.
Fixing the bulb… an analogy
The other day our car's headlight burned out. Naturally, I got to work replacing it. I always expect car fixes to be a pain in the neck, but it still drives me crazy when things that should be "simple" are unnecessarily difficult. Changing a headlight bulb is a perfect example of this.
However, rest at ease! Just follow this easy 7-step process and you'll be careening down the highway before you can say "xenon halogen low beams".
Before you start, it's best if it's freezing cold and pouring down rain while performing the below activities.
First, open the back compartment of the headlight assembly. Note, you'll need superhuman strength to grip and twist adequately to dislodge its barely-warn threads.
Next, transmogrify your hand into that of a small child (a raccoon's hand would work… opposable thumbs and all) so you can reach into the hole where you must assume the bulb is held.
Next, figure out how to unclip the bulb harness without actually seeing whatever the h*** it is that's holding it in there. (I bleeped "heck" there, by the way, for all you expletive police.)
Then, jiggle the bulb out of its hole. Make sure to bend your fingers in an unnatural fashion and scrape your nails and cuticles in ways that will cause the greatest amounts of pain. Make sure to suddenly jerk the bulb out at the last minute so you hit your hand real good on the sharpest, dirtiest surface possible.
Great job, you're halfway through!
Now, grab the new bulb… somehow, without actually touching it because if you do touch it your car will apparently explode next time you turn on your headlights. (Use a hazmat suit if you have one. I usually rent mine.)
Finally, while awkwardly holding the bulb (again, hold it but don't touch it), fit your hand through the inordinately small space, put the bulb in the hole you can't see, secure it in place with the spring thingy you can't comprehend, and screw the cap back in place even though it's now magically the wrong size to fit its original hole.
Simple, right? You'd think.
It's infuriating. Before you know it, you've spent two hours on a task that should've been done in 10 minutes.
The moment everything changed…
In this particular bulb replacement, I stumbled across a small icon on the top of the headlight fixture that looked like a book with the letter 'i' over it. I deduced that this little symbol was urging me to read the owner's manual before going further. I had nothing to lose so I dug into the glovebox and cracked that sucker open.
Then a miraculous happened. Things got easier.
Whoever built our car was a very, very….. very smart and considerate person. They created these special tabs that, when located and pulled up, allowed me to remove the ENTIRE headlight from the vehicle and replace the bulb in 5 minutes without any of the typical shenanigans.
After reading the manual, everything made sense. Everything became easier. I spun my wheels less, hurt my fingers less, and used a lot fewer Christianese expletives than I would have used otherwise.
See where I'm headed with this?
I can't tell you how many couples contact us because they're at the end of their rope: frustrated, in pain, and on the verge of hopelessness in their marriage. They're trying everything and nothing is working. They're like me, trying to muscle through what should be easy to fix but getting flustered because it's somehow too complicated to figure out.
Instead of only trying to power through our difficulties in marriage, it's time we learned to first trust the book. We need to stop trying so hard and learn to believe God's words.
Trying harder doesn't work
First, this is important: I'm not suggesting you give up on your marriage or allow yourself to entertain anything sinful or counter-covenant (i.e. against your marriage). This post isn't a license to sin.
What I'm suggesting is that you, instead of trying, embrace rest. Specifically, rest in Christ, what he's done, and what he's promised.
The art of resting in Jesus
What comes to mind when you read these familiar words:
"Be still, and know that I am God. I will be exalted among the nations, I will be exalted in the earth!" (Psalm 46:10)
No really, what comes to mind for you? Where does that passage lead you?
For me, it's convicting. I'm terrible at being still. I'm bad at resting. (I'm very good at being lazy, but terrible at resting.)
Our pastor is a wise man. He always reminds me that the "work" of the Christian is to simply believe. It's not our primary job to earn our righteousness or fix our biggest screw-ups, it's to believe. In other words, our single task as professing believers of Jesus Christ is to believe that he is who he says he is, he did what he said he did, and he will do what he said he would do.
Let's unpack what those reminders mean.
Believe: Who is Jesus?
He is fully God: powerful, sovereign, loving, and just. (e.g. Matthew 16:15-17)
He is fully man: he can sympathize with your struggle and he has promised to meet you in it. (John 1:14, Hebrews 4:15)
He is a peace giver. (John 14:27)
… and so much more.
Believe: What does Jesus do for you?
He lived the perfect life you couldn't live and died the death you should have died, so you wouldn't have to. (e.g. Romans 5:8)
He contends and intercedes for you to the Father. (Hebrews 7:25)
He justified you, right where you are. (Romans 5:8)
He fulfilled God's promise (in prophecy). (Isaiah 53:4-7)
Again, and so much more…
Believe: What did Jesus say he'd do?
He promised to make all things new. (Revelation 21:5)
He promised to return. (1 Thessalonians 5)
He promised to wipe away every tear. (Revelation 21:4)
He promises believers a place with him forever. (1 John 5:11–13)
What does this have to do with my marriage?
If you recall the title of this post, it's called "Why You Should Quit Trying So Hard". If you're struggling in your marriage and you feel like nothing you're trying is working, it's time for you to simply stop and rest in Christ.
I don't mean you should stop doing healthy things (like counseling, potentially), but rather, give your worry to him. Give your anxiety to him. And instead, rest, sleep, relax in Jesus: who he is, what he did, and what he promises.
In short, stop working and start believing.
Therefore do not be anxious about tomorrow, for tomorrow will be anxious for itself. Sufficient for the day is its own trouble.
Matthew 6:34
So, fierce husband or fierce wife, it's time to rest. Rest in Christ's finished work on the cross and soak in your identity as God's child. Trust him to no end, even with your marriage in the balance. He is big enough, good enough, and sovereign enough to handle even that.
Have you heard of the The 31-Day Pursuit Challenge?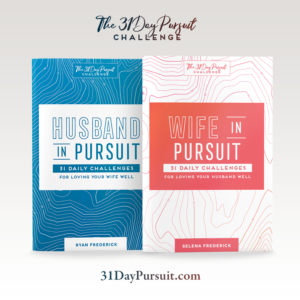 Every marriage begins with passion, purpose, and pursuit, but few stay that way. That's why we wrote Husband in Pursuit and Wife in Pursuit Together, they make what we're calling the 31-Day Pursuit Challenge. Couples are encouraged take the challenge together. We're already starting to hear stories of transformed marriages! Are you up for the challenge?