Every couple wants greater intimacy. There's nothing like feeling truly connected to one another – like you're walking in sync, your hearts are beating to the same rhythm, and you don't know where you end and your spouse begins. It's truly, truly remarkable. I'd even say it's a miracle.
What is it about the marriage bond that allows us such astounding intimacy? Why are we wired for it? Why does it feel so natural when it happens? One word: grace. God is gracious and good, and we experience this type of intimacy because of who He is and how He's designed us.
Every couple wants intimacy but not every couple knows where to find it. When we feel disconnected, we search for a way to reconnect. Disconnection hurts, and we'll do almost anything to make the hurting stop.
Today we have a second guest post by R. Scott Rodin; a man I very much admire. (Read about him at the bottom. Know this: he's super wise.)
Last week, Scott wrote about 3 Marriage 'Mines' and How to Avoid Them (a great article btw), but today he's tackling intimacy. I hope you'll read his words and find them inspiring, helpful, and convicting. I know I did.
---
By R. Scott Rodin
See if these three statements surprise you.
Intimacy with your spouse begins with intimacy with God.
The depth of intimacy with your spouse depends on the depth of your intimacy with God.
The extent to which you abide in Christ may be the biggest determinant of the quality of your sex life.
Surprised? Let's discuss these statements by using an empty glass and a pitcher of water as an example.
God created us to be confident and secure in who we are, why we were created, and where we are going. This is true because in Christ,
We know we are beloved and redeemed children of God,
We know we were created to love God, love our self, love our neighbor and care for creation,
We know our future is heaven.
These three truths give us confidence and fill our lives with purpose and meaning like fresh water poured into an empty glass. Because of them we don't need to look for our self worth, confidence, or validation for our lives in any other place.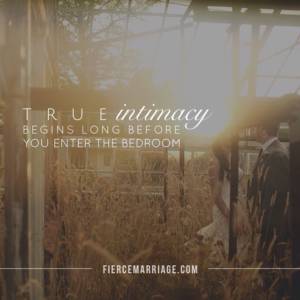 We begin every day with the need to reestablish this security and inner meaning. We must live in these three truths in order to know the confidence and contentment God wants for us.
When we do, our glasses will not only be full they will overflow, splashing out one everyone around us. We will live generously and graciously for others, beginning with our spouse.
Confidence, contentment, self worth and meaning in life are precious gifts from God and He stands ready to lavish them on us everyday.
When these truths fill us to overflowing, we enter into intimacy with our spouses as givers – as big-time splashers. We relish every opportunity to pour ourselves into our partner. Being filled frees us to be selfless, generous, extravagant lovers.
A heart secure in Christ
The key to this kind of robust intimacy is a heart secure in Christ and a self-image grounded in Him. To develop and maintain such a posture requires daily intimacy with Christ. It does not come any other way.
God created us for intimate relationship with Him. Everything else in our life flows from that starting point.
That's why Jesus taught us, "I am the vine; you are the branches. If you remain in me and I in you, you will bear much fruit; apart from me you can do nothing." (John 15:5)
Here is the bottom line: remaining in Christ is the single most important thing you will ever do for your marriage and for the depth of intimacy you enjoy in it. The deeper your intimacy is with Christ, the more satisfying your intimacy will be with your spouse.
This level of intimacy with Christ must be sought and pursued everyday. Why? Because the enemy wants to steal it from you. He has an agenda.
The enemy agenda
He wants to rob you of intimacy with God by filling your life with busyness.
Work, family obligations and even church and fitness commitments crowd out the time and focus you need to "remain in the vine." As you lose intimacy with Christ your self-image becomes detached from its anchor in Him and looks for other places for its definition and confidence. You never find it, so you begin to feel insecure in who you are.
You lose confidence in your purpose in life. Work and leisure give little satisfaction and your future becomes fuzzy. Anxiety replaces peace and self-doubt crowds out certainty.
Your glass becomes empty and so you search for ways to find your lost sense of value and focus.
Now, instead of being a giver, you are needy and in want.
Instead of having the freedom to be selfless, you are in bondage and searching for what will satisfy you.
Instead of being a splasher that overflows, you are a dry sponge that can only suck up everything around it.
Sound like your married life?
The key to restoring passion and intimacy in your marriage is to restore certainty and confidence in your self-understanding. And that can only be found in a restored depth of intimacy with Christ.
Believe it or not, the best way to reignite your sex life is to put down your lover's manual and pick up Scripture, together. When both of you find yourselves again as beloved children of God, and when His loves has overflowed on you and filled you up with confidence and joy, then you are ready to love each other with a genuine, generous spirit.
Three truths to remember
Do you need to restore the intimacy and passion in you marriage? I encourage you to hold fast to these three truths:
Intimacy with your spouse begins with intimacy with God
The depth of intimacy with your spouse depends on the depth of your intimacy with God
The extent to which you abide in Christ may be the biggest determinant of the quality of your sex life.
About R. Scott Rodin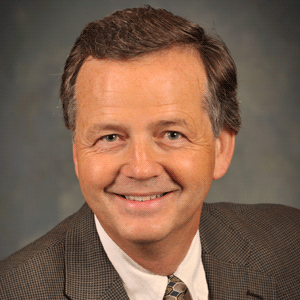 NOTE: Join Scott live on Periscope on Thursday, Nov 11th at 4pm Pacific He will be answering any and all questions you ask! Make sure to follow him on Twitter to ask questions and get notified when it's live!
Dr. Rodin is president of The Steward's Journey and Kingdom Life Publishing. He also runs Rodin Consulting, Inc. He is a Senior Fellow of the Association of Biblical Higher Education and is past board chair of ChinaSource and the Evangelical Environmental Network.
Dr. Rodin holds Master of Theology and Doctor of Philosophy degrees in Systematic Theology from the University of Aberdeen, Scotland.
His latest book, The Seventh Key, shows us how to unlock the life God created us to live, moving from bondage to freedom through seven keys that unlock seven chains that hold us captive. This is the highly anticipated third book in the trilogy following The Third Conversion and The Million Dollar Dime.
Have you heard of the The 31-Day Pursuit Challenge?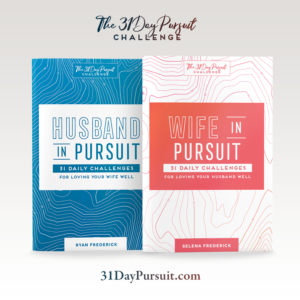 Every marriage begins with passion, purpose, and pursuit, but few stay that way. That's why we wrote Husband in Pursuit and Wife in Pursuit Together, they make what we're calling the 31-Day Pursuit Challenge. Couples are encouraged take the challenge together. We're already starting to hear stories of transformed marriages! Are you up for the challenge?