Revealing, Challenging, and Hope-Filled
I'd recommend adding Love & War to your "read-it" collection. From the beginning this book keeps it real. Disseminating into all the major areas of a marriage, including sex, reading it is like opening a door into John and Stasi's marriage. It's personal and relatable. You empathize with the vulnerable and intimate moments they share (bring a highlighter!).
What attracted me to this book (besides it's title, as it sounded like a book from the Jane Austen era; of which I'm a huge fan) is that it was was written by BOTH John and Stasi.  As Ryan and I have read their other popular and widely known books (e.g. Wild at Heart written for men by John, and Captivating written for women by Stasi) I was curious to see how their perspectives would come together.
Being conversational in nature, it makes you feel like John and Stasi are sitting there with you, having coffee. He's telling stories, she interjects; they smile and humbly share the good, the bad, and the ugly about their marriage. And suddenly you don't feel so inferior, only humbled and oh-so grateful.
As per John and Stasi, "Marriage is fabulously hard." Love & War is full of wisdom on how to navigate the stormy waters of marriage.
It's a solid read for individuals, or couples to read and discuss together, and or marriage groups to go through together (yes, there are workbooks available).
No matter how many books I'm reading at any one time, I always have a book about marriage in my hands.
You can Purchase Love & War on Amazon.com for a very reasonable price.
Have you heard of the The 31-Day Pursuit Challenge?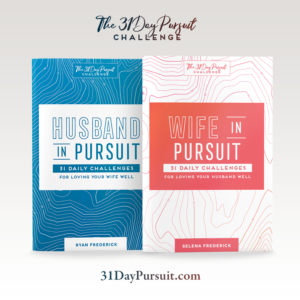 Every marriage begins with passion, purpose, and pursuit, but few stay that way. That's why we wrote Husband in Pursuit and Wife in Pursuit Together, they make what we're calling the 31-Day Pursuit Challenge. Couples are encouraged take the challenge together. We're already starting to hear stories of transformed marriages! Are you up for the challenge?