If you're looking for a new book to read, I'd encourage you to check out Love Does by Bob Goff. It's not a marriage book, but every life lesson Bob shares could easily be translated into marriage. In chapter 28 ("Skin in the Game") Goff discusses fighting…why fighting for the right things (Godly injustices), with the right tools (love), is important.
What better topic to write a marriage post on than fighting right?
How to fight
I know you're probably wondering why a marriage blog is outlining "how to fight." Don't worry, we're not actually providing instructions on how to duke it out with your spouse. (But… Here's a fun video about proper car fights, and here's an article about fighting naked for starters.)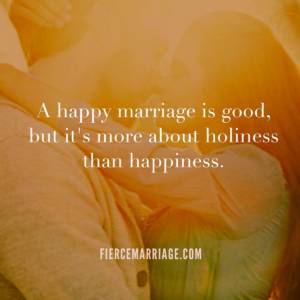 On the contrary. We are learning how to fight; how to get in the game and fight fiercely together for our marriage instead of against each other.
We can't truly fight for our marriage if we are standing on the sidelines listening to the peanut gallery. You know what friends/family members I'm talking about; the ones who so loudly and willingly provide you with marital advice while having little or no understanding of your marriage let alone your spouse…
Sometimes it's easier to not fight. It's easier to ignore the problem(s) and just try to get through the day. But this tends to leave us divided and unable to fight for our marriages.
I love how Goff puts it:
"All of us want to deal with issues from a safe distance. I know I do. But the stakes couldn't be higher with the small conflicts. If we don't get those right, when its game day for the big disputes, we'll still be wrapped around the axles with all of the previous unresolved disagreements."
Step 1: Realize you're on the same team
We have to be on the same team as our spouse before we can do battle against the things that would tear our marriage apart.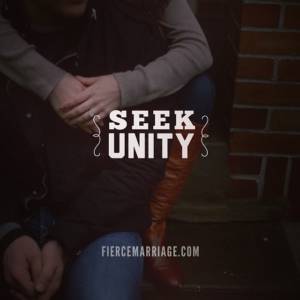 Take for example a porn addiction. It's easy for us to pick sides, play the blame game, and stay in our corners…is that love? Is that what Christ exemplified to us?
Fighting for your marriage, together, means that you're willing to humbly get in the game and fiercely battle the injustices such as pornography, dishonesty, the comparison game, etc. — all those things that inevitably lead to the death and destruction of your marriage.
Our weapon? Love
God has graciously given us the tools to overcome anything the enemy may throw at us. Grace, mercy, faith, hope and love. Love being the primary (1 Corinthians 13:13).
Goff talks about love being like a sword without a handle (p. 194), "…and because of that, sometimes we'll get cut when we pick it up. It's supposed to be close contact, though. Love always is that way."
Loving someone requires us to be present with them. Who better to be in the midst of trial with than your spouse? Who better to partner with and fight fiercely alongside than your hubby or wife?
1 Corinthians 13 is a continual reminder to Ryan and I about the true definition of love.
Step 2: Jesus as our example
"Sure it's easier to pick an opinion than it is to pick a fight. It's also easier to pick an organization or a jersey and identify with a fight than it is to actually go pick one, to commit to it, to call it out and take a swing. Picking a fight isn't neat either. It's messy, it's time consuming, it's painful, and it's costly. It sounds an awful lot like the kind of fight Jesus took on for us when He called out death for us and won." (p. 196 – Love Does)
There's no time to sit on the sidelines and ignore the attacks of the enemy on our marriage. Jesus gave his life for us. It's time for us to start sharing our life and giving our selfishness up and to begin to fight together and for each other – not against.
Step 3: Act now, it's time.
Our lives are as a vapor (James 4:14), there is no time to waste. It's time to fight! It's time to get fierce about our marriage – to get skin in the game – to be strong and courageous like Joshua leading the Israelites into the Promised Land.
They too faced battles, but clung to God's words: be strong and courageous!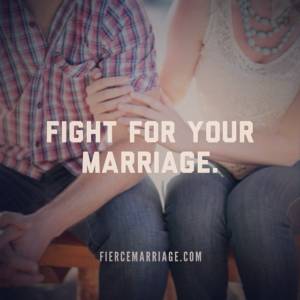 Let's stand together in Christ and fight for our marriage; fight for our family. Fighting without fear, without intimidation. Let us fight with the knowledge that Christ has overcome the world (John 16:33)!
We are not alone. God is with us.
Question: Would you say that you're in the game in terms of your marriage? Why or why not? What steps can you take towards partnering with your spouse and beginning to fight fiercely?
Have you heard of the The 31-Day Pursuit Challenge?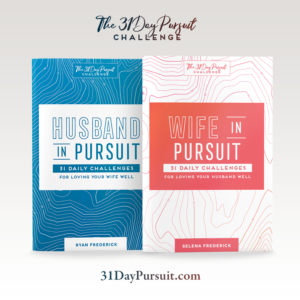 Every marriage begins with passion, purpose, and pursuit, but few stay that way. That's why we wrote Husband in Pursuit and Wife in Pursuit Together, they make what we're calling the 31-Day Pursuit Challenge. Couples are encouraged take the challenge together. We're already starting to hear stories of transformed marriages! Are you up for the challenge?