Traveling is risky business. While it's physically safe to travel, being away from home poses unique risks to your marriage if your character and integrity are weak. In fact, you'll face the temptations and integrity-compromising situations I'll be discussing in everyday life, but during solo travel they're much more apparent.
Traveling is an escape of sorts. You're whisked away on a plane to a faraway destination where nobody knows you and you're free to do whatever you want. You're away from your normal routines and familiar faces.
The past four days I've been in Chicago for a conference. While I do have good friends in the city to spend time with, I'm essentially alone; and as I've explored on foot and spent late nights traversing Chicago by train, I am reminded of the many pitfalls inherent to being alone in a large city.
What happens in Vegas…. goes home with you.
We've all heard the slogan of "Sin City" (Las Vegas): "What happens in Vegas, stays in Vegas". I sincerely hate that marketing campaign. It succinctly sums up the mentality I'm trying to address here, the mindset that our value system can be put on pause when we're away from home. As followers of Christ and husbands/wives who seek to glorify God through our marriage, we are called to be integrous no matter where we are, no matter how we feel.
Here are seven integrity-guarding habits to use when you're traveling solo.
7 Habits to Maintain Your Integrity
1: Get Accountable…Honestly
Accountability is the best way to remind yourself that you're not alone. I have a few people in my life that I trust to ask me the hard questions regarding my behavior. This is because I know I'm not perfect, and I know I will have weak moments.
Selena is my biggest accountability partner, as well as a few close buddies. Between them, I know I'll have someone with a vested interest in my integrity asking me the hard questions. Also, I know that if I'm in a weak moment, I can call and ask for prayer, encouragement, and a swift kick in the butt.
Accountability only works if you're completely honest. Lying and fibbing will negate any effort to be held accountable. Husbands, ask your wife to keep you honest. Wives, ask your husband. Identify destructive behaviors you're prone to and articulate ways you think you'll need accountability.
This only works if you genuinely want to do the right thing. If you're looking for a way to sin, you will. But if you're looking to be righteous, get accountable.
2: Arm Your Devices
Speaking of internet integrity, don't be left to your own devices on your devices (see what I did there?). Phones, tablets, and laptops are a portal to virtually anything on the web. Accountability helps with this, but multiple lines of defense are always good.
Install accountability software on your computer and other devices. X3Watch is the one I use, and it's very good (there's a free version). There are others, with different features and price-points. Make the move, and invest in your integrity. Don't be an island unto yourself, ask those who love you to fight alongside you.
3: Wear Your Ring
Don't take your ring off when you're traveling. I leave it on even when I'm asleep to avoid the possibility that I forget to put it back on before I leave. It's like a beacon of light signaling your loyalty and unavailability.
Once in a while, you might catch the eye of a stranger across the room. If you notice a girl/guy giving you their "I'm interested" stare, casually use your left hand for some activity near your face: fixing your hair, scratching your ear, or even picking your nose. Whatever the cue, make it obvious that your ring is there. Hopefully they'll respond by respecting your union and your absent spouse.
4: Use "Adultery Repellant"
When I meet new women (colleagues, waitresses, or random conversational strangers), one of the first things I mention is my sweet Selena. If you can't find an organic way to mention your spouse, use plural pronouns like "we" and "us". They should get the clue.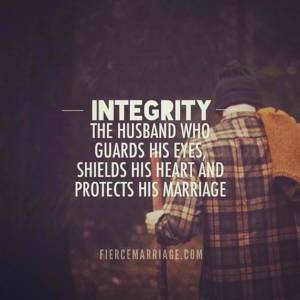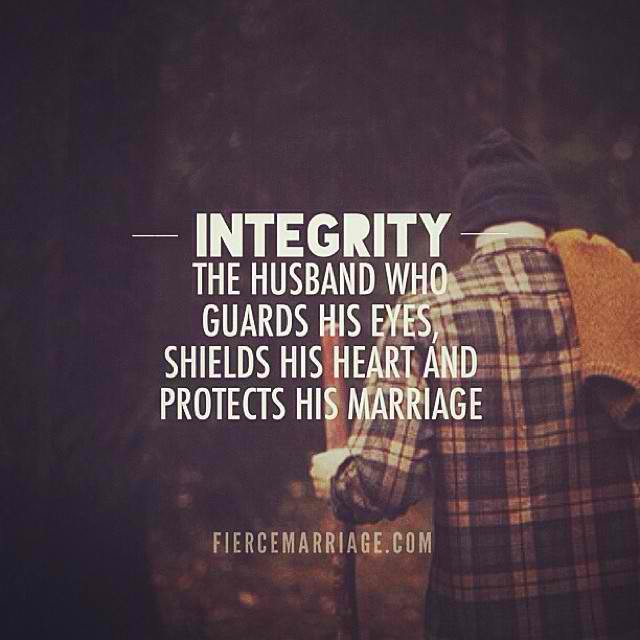 Talking about Selena diffuses any idea they might have that I'm a single guy looking for a date or otherwise. By talking about your spouse openly you're doing two things:
Bringing her/him into the conversation. They are now part of the open dialog.
Reinforcing that you value your spouse.
Some people may try to win your affections even if they see you wearing a wedding ring. Talking about them quickly diffuses the thought that you're open to anything other than innocent conversation.
Michael Hyatt says it well:
"I will speak often and lovingly of my wife. This is the best adultery repellant known to man."
5: Recognize and Avoid Vices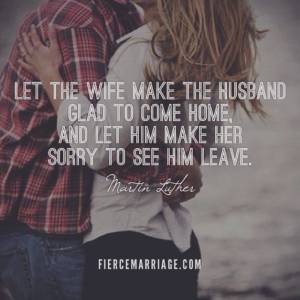 Steer clear of any places or behaviors you know are stumbling areas for you.
If you're a gambling addict, don't go into a casino – even if it's for a casual drink with a friend. Just don't.
If you struggle with drug use, don't go where drugs may be distributed or available.
If you struggle with sex-related failures, don't stay near the red-light district. Don't use your computer in your hotel.
If you're an alcoholic, don't go to bars. No one is forcing you to order a beer when at a casual dinner with friends/colleagues – so order anything else!
Sounds simple, but when you're traveling alone it's easy to start down paths you're all too familiar with. The best way to avoid the end of the path is to completely avoid its beginning.
6: Schedule Calls
Set aside time(s) when you'll call your spouse each night. This gives you an opportunity to include them in your trip while also keeping you honest. If you know you're talking at 9pm, you're less likely to go on a drinking binge or put yourself in compromising situations.
7: Lean on the Holy Spirit
Everything I've mentioned above will only work if you genuinely want to be a person of integrity and you trust the Holy Spirit to guide and strengthen you. One of the fruits of the Holy Spirit – proof that He is alive and active in you – is self-control. Lean on the Holy Spirit to help you when you feel weak. He is always there to miraculously catch us when we fall. Lock this verse away in your heart and grab onto any other verses that you know you'll need to strengthen you.
Galatians 5:22-23
22 But the fruit of the Spirit is love, joy, peace, patience, kindness, goodness, faithfulness,
23 gentleness, self-control; against such things there is no law.
Did I miss anything? What are some other ways to maintain your integrity when you're away from home?
Have you heard of the The 31-Day Pursuit Challenge?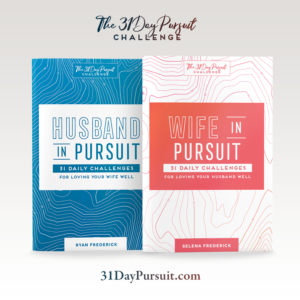 Every marriage begins with passion, purpose, and pursuit, but few stay that way. That's why we wrote Husband in Pursuit and Wife in Pursuit Together, they make what we're calling the 31-Day Pursuit Challenge. Couples are encouraged take the challenge together. We're already starting to hear stories of transformed marriages! Are you up for the challenge?