If left unchecked, your social media life can create problems in your marriage. The advent of social media sites has created much conversation about the privacy of users' information. The result: each has increased user control over who can see each update, image, interaction, and like. In general, it's a great improvement but for married couples, it raises an important question of transparency and accountability about your "social media life".
In today's podcast, we discuss Proverbs 4 and its various implications for how we wisely conduct ourselves online for the good of our marriages. Listen below!
Mentioned in Today's Show:
Show Notes:
Communication: Five Habits for Hearing and Being Heard
Highs/Lows
Discussion: What should I do when I feel like my spouse misuses social media (namely, Facebook)?

We reviewed Proverbs 4:23: "Keep your heart with all diligence…"
Solomon wrote it. He had access to anything he wanted… instantly. Kind of like we do on the internet today.
We looked at the larger context of Proverbs 4.

Hear wisdom, keep it close, and "here's how to apply it"

How do we apply wisdom to social media?

"Open windows, open doors, lights fully turned on."
No hidden accounts or passwords.
Be transparent with each other.
Talk about questionable interactions.
Being very mindful of posted imagery (by you and others).
Don't PM/DM/Message anyone of the opposite gender (unless in a group context)
Don't vent anger or frustration on social media at the expense of your spouse; it's always unproductive.

Bottom line: Wisdom compels us to guard our hearts against paths that lead to harm.

Couple's Challenge (see below)
We discussed The 31-Day Pursuit
Rapid Fire Q&A
Weekly Letter Reading
Today's Couples Challenge:
Discuss this podcast (both listen to it)
Read through Proverbs 4 together and find one or two verses that jump out to you.
Take a personal inventory for hidden areas in your life/marriage that go against wisdom.
Make a plan to discuss hidden areas before they take root.
Create a plan for healthy interaction with others and each other on social media.
Don't forget!
Please SUBSCRIBE, RATE, and REVIEW this podcast on your app of choice. It takes 30-60 seconds, and it helps get the word out about gospel-centered marriage. Thank you!
Do you have a question?
If you have a question, ask! Anything goes. Click the appropriate button below to submit a question or story; we'll take care of the rest.
Leave us a voicemail
Call: (971) 333-1120
Note: by dialing the above phone number and leaving a voicemail, you are granting us permission to include your voice in our podcast.
More questions?
Feel free to write any questions in the comments below. We just might do an episode on it. :)
---
We'd love your help!
If our ministry has helped you, we'd be honored if you'd pray about partnering with us. Those who do can expect unique interactions, behind-the-scenes access, and random benefits like freebies, discount codes, and exclusive content. More than anything, you become a tangible part of our mission of pointing couples to Christ and commissioning marriages for the gospel. Become a partner today.
Become a Fierce Marriage Partner Today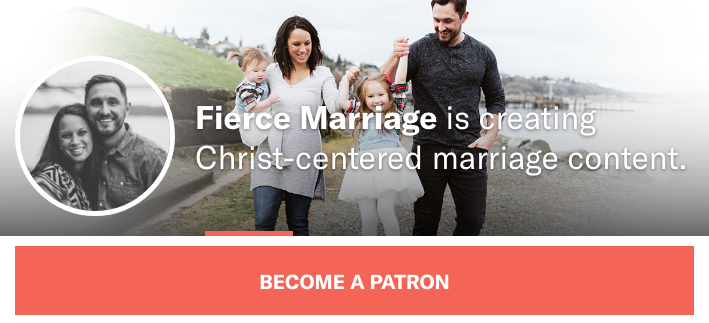 ---