The secret is out; Ryan and I are due to have a little baby girl in December and we couldn't be happier! However, we are wrestling through being pregnant and married; and trying to strike new balances in this new season of life.
Don't worry, we're not turning this into a "How to parent your child" blog – we are still all about marriage and one of the things we've learned in the last few weeks (18 to be exact) is that having a kid changes EVERYTHING. We don't even have the child in our arms yet and our world has been flipped upside down (in a great way!).
Being Pregnant and Married
The goal of this post is to share the struggles we've been facing being pregnant with our first child and how we've coped with them and maybe gather comments and advice from you about how you handled being married and pregnant.
Aside from being hungry ALL THE TIME, my pregnancy has been fairly smooth sailing. Ryan definitely had a few unexpected grocery runs when I wasn't feeling great the first few weeks, but overall, he's rocked this whole pregnancy. I could not have asked for a better partner in life to share this experience with.
Honestly, we've just now started experiencing some of the difficulties of being pregnant. The 3 main areas for us: finances, communication, and sex.
Finances
Living in a second floor, 2 bedroom 2 bathroom apartment for the last 4 years has been great for us. But now we have a little girl on the way (crazy!). I know we don't really need to have it all figured out, but we really want to make room (literally) for this little girl and all the stuff that will come along with her (wow, there is so much for babies these days!) In other words: bigger place to live. Ideally – yard (for the dogs), garage for our lives, and washer and dryer IN our home, for the coming dirty baby clothes that we've been told will inevitably fill our home. Living in CA, that translates into $$$.
Crazy thoughts can easily run rampant in my head such as, car?! What about a bigger car? Will our Prius work? (I think Romans 12:2 is speaking exactly to this)
Basically it all boils down to money. Spending more because we now have more to be responsible for.
I'm still waiting for that money tree to be planted in my backyard…
Communication
Marriages have communication hiccups in them naturally, but with being pregnant and married, we sometimes feel like we are having more communication difficulties.
Ryan asks me something, I feel like he is attacking me so I answer him back (with some sass of course) and then he questions me and my "tone" and well…you can see where this is going.
Blame it on the hormones or what have you, but lately, it's taken a lot more patience and intentionality to communicate the truth in love and to communicate period.
Sex
One would think this wouldn't be an issue. To be honest, it hasn't until recently.
Being pregnant is different for everyone. Some women enjoy sex more when they are pregnant, while others (I think I fall into the others group) don't enjoy it as much.
The discomfort has started to set in and it's just been more challenging than in the past.
It's taken a bit of a toll on both of us, mainly because sometimes we let more time pass than is ideal… However, we are also excited to figure out new ways of maintaining intimacy while making it comfortable for both of us.
Overall
With this new season upon us, we do find ourselves slightly nervous and scared of the unknown.
We have both also seen our faith grow and multiply in ways that we have not experienced yet. The fears and worries of the future continue to challenge us to trust in our Heavenly Father. To remember His faithfulness and to rely wholly on Him.
We're also experiencing an intimacy as husband and wife, that after (almost) 10 years of marriage, is new and unfamiliar.
I am so thankful and blown away by how God ministers to Ryan and I through this pregnancy and we are excited to continue this journey together. Being pregnant is absolutely a miracle and no one other than God could've created this process. It brings a deeper meaning to Psalm 139:13-16
"For you formed my inward parts;
you knitted me together in my mother's womb.
14 I praise you, for I am fearfully and wonderfully made.
Wonderful are your works;
my soul knows it very well.
15 My frame was not hidden from you,
when I was being made in secret,
intricately woven in the depths of the earth.
16 Your eyes saw my unformed substance;
in your book were written, every one of them,
the days that were formed for me,
when as yet there was none of them."
Question: What advice would you give to first-time parents?
Have you heard of the The 31-Day Pursuit Challenge?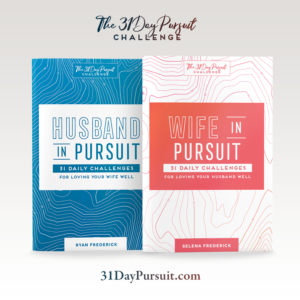 Every marriage begins with passion, purpose, and pursuit, but few stay that way. That's why we wrote Husband in Pursuit and Wife in Pursuit Together, they make what we're calling the 31-Day Pursuit Challenge. Couples are encouraged take the challenge together. We're already starting to hear stories of transformed marriages! Are you up for the challenge?