The humble route is hardly the desirable route to take in any situation, let alone marriage, but why? Why do we fight it? Often times we lean on ourselves; taking pride in our own ability to handle things, instead of leaning into Jesus during the challenging times with our spouse. Learning to trust him and take him at his Word is no small task, but it is what Peter encourages us to do as Christians – why? Because ultimately trusting God means He will be glorified in and through our circumstances.
1 Peter 5: 6-11 (ESV)
"Humble yourselves, therefore, under the mighty hand of God so that at the proper time he may exalt you, casting all your anxieties on him, because he cares for you. Be sober-minded; be watchful. Your adversary the devil prowls around like a roaring lion, seeking someone to devour. Resist him, firm in your faith, knowing that the same kinds of suffering are being experienced by your brotherhood throughout the world. And after you have suffered a little while, the God of all grace, who has called you to his eternal glory in Christ, will himself restore, confirm, strengthen, and establish you. To him be the dominion forever and ever. Amen."
Marriage is one of the most trying relationships we face in life and one of the primary enemies to marriage is our pride. Pride that we are right (and maybe we are), pride that we don't need our spouse and might be better off without them…however, pride is not a virtue that God names off in the fruits of the spirit (Galatians 5:22) – and pride is what caused sin to enter the world in the first place.
Pride. What it is and what it does…
Pride hides, it justifies, it self-glorifies and it signifies who is really the god in our life – ourselves.
In heated arguments, taking the humble route is typically not an option – at least for me. I admittedly tend to act more on my emotions and feelings rather than being obedient to God's Word. When I don't feel like being humble, I don't; so what happens? Maybe I "win" the argument… but I've most likely left Ryan hurt and broken – with God being shoved out of the picture instead of being glorified.
Peter reminds us that being humble and obedient to God leaves room for Him to "exalt you." Granted our motivation is not pride – not to be "exalted" but there is a promise from God that He will exalt (i.e. dignify, extol, acclaim, revere, magnify) us in His perfect time.
God's timing is always perfect – making that moment true, beautiful, strong and amazing; ultimately bringing glory to Himself through us.
Peter warns us that there is a real enemy seeking out pride that he can feed to direct couples to the destruction and demise of their marriage. Humility eliminates any foothold the enemy may try and take.
We're not alone
We are all facing trials and difficult times in our marriage – but we're not alone (vs. 9). God never promised us a problem/pain-free marriage (vs. 10); it was never about happiness – it's all about grace.
Let's look again at verse 10: "And after you have suffered a little while, the God of all grace, who has called you to his eternal glory in Christ, will himself restore, confirm, strengthen, and establish you."
Talk about encouraging! Read that verse again – bold those words in your mind: RESTORE, CONFIRM, STRENGTHEN, and ESTABLISH.
Friends, there is no need to fear – we serve a God that cares about us, that knows when we decidedly take the humble route out of obedience and reverence for Him, we can give him all the fears, frustrations and hurts that inevitably follow. Leaning into Him during the hard times, remembering and trusting that in the end, He will be glorified through the areas in our marriage that need restoration…He will confirm us for others to see, and He will bring strength to our relationship to our spouse that can only be evidence of Him. He is faithful to establish us.
Let's walk together and make the humble routes so beaten and worn that they become the primary paths we take in our marriage, and also in our lives.
Prayer:
God, Plant your word deep in my heart. Help me to continually choose the route of humility; to trust you when anxieties come due to taking that route and remembering the glory that you promise – God that although we face suffering in this world, you promise to never leave us. And in the end, when we are with you, we will be crowned with glory – praising you for all eternity.

In Jesus' name, Amen.
Click an image to share it
Featured image by Jeff Marsh
Have you heard of the The 31-Day Pursuit Challenge?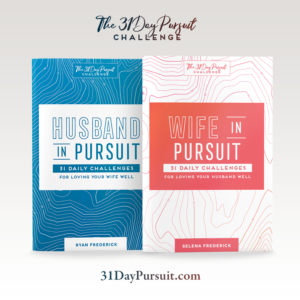 Every marriage begins with passion, purpose, and pursuit, but few stay that way. That's why we wrote Husband in Pursuit and Wife in Pursuit Together, they make what we're calling the 31-Day Pursuit Challenge. Couples are encouraged take the challenge together. We're already starting to hear stories of transformed marriages! Are you up for the challenge?