Many couples wonder how to gain agreement about sex and intimacy when life is busy, schedules are hectic, and expectations for sex seem constantly misaligned.
If you're at all like Selena and me, you and your spouse probably don't desire sex the same way or with the same frequency. This can cause frustration in your marriage that, if left untreated or undiscussed, can turn into bitterness, division, and worse. Sex isn't everything in marriage, but it is very important to be unified and satisfied in your sex life together—for your enjoyment and for God's ultimate glory.
In today's episode of The Fierce Marriage Podcast, we'll discuss:
What if my husband/wife wants sex more than I do?
How can we be intimate without feeling obligated to do so?
Mentioned in Today's Show:
Show Notes:
Intimacy Without Frustration, Obligation, or Missed Expectations
We're thankful for your listenership. We spent a few days counted among the top 10 podcasts of our category (Christianity, Kids & Family). Thank you!
Ryan and Selena shared their highs and lows of the week.
Two listeners asked:

What if my husband/wife wants sex more than I do?
How can we be intimate without feeling obligated to do so?

We read 1 Corinthians 7:5:
"Do not deprive one another, except perhaps by agreement for a limited time, that you may devote yourselves to prayer; but then come together again, so that Satan may not tempt you because of your lack of self-control."
A few cautions when reading the above passage:

It's not a tool to be used to demand sex in marriage.
In context, this verse is about acting in mutual agreement to the common goal of greater intimacy and reliance on Christ.
By choosing to abstain from sex for a time, to focus on spiritual growth. This is not a form of asceticism, but rather a method of grace-fueled worship.

If a couple is not actively agreeing to abstain from sex, they're passively (or actively) agreeing to NOT abstain from sex. If that's the case, your sex life should look "normal and healthy" for you, but it may take some digging to discover what that means. We proposed two steps:

Clearly define what "not abstaining" looks like and what a healthy, normal sex life looks like in your marriage.
Calibrate your expectations for sex. Read our post, "The Spectrum of Sex".

Couples Challenge:

Read The Spectrum of Sex together or separately.
Discuss your expectations for sex, and what your spectrum might look like.
Identify what a normal, healthy sex life looks like for your marriage and within God's design for sexuality.
Create an action plan for building a normal, healthy sex life together.

We discussed our partnership with Datebox. Get a FREE box by using our link to sign up. (This deal will expire very soon, FYI.)
Ryan answered Selena's Rapid-Fire Q&A. Many laughs were had…
We read a letter from a wife to her husband. It was super sweet and encouraging.
We discussed The 31-Day Pursuit Challenge. You should do it; it will change your marriage.
We closed in prayer.
Ask any question, leave us a voicemail, or write a letter to your spouse.
Don't forget!
Please SUBSCRIBE, RATE, and REVIEW this podcast on your app of choice. It takes 30-60 seconds, and it helps get the word out about gospel-centered marriage. Thank you!
Have a question?
During each episode, we encourage listeners to share their stories, ask questions, or write letters to their loved ones… all with the potential of being read during the show! Anything goes…
Click the appropriate button below! We'll take care of the rest.
Or… leave us a voicemail!
Call: (971) 333-1120
Note: by dialing the above phone number and leaving a voicemail, you are granting us permission to include your voice in our podcast.
More questions?
Feel free to write any questions in the comments below. We just might do an episode on it. :)
---
We'd love your help!
If our ministry has helped you, we'd be honored if you'd pray about partnering with us. Those who do can expect unique interactions, behind-the-scenes access, and random benefits like freebies, discount codes, and exclusive content. More than anything, you become a tangible part of our mission of pointing couples to Christ and commissioning marriages for the gospel. Become a partner today.
Become a Fierce Marriage Partner Today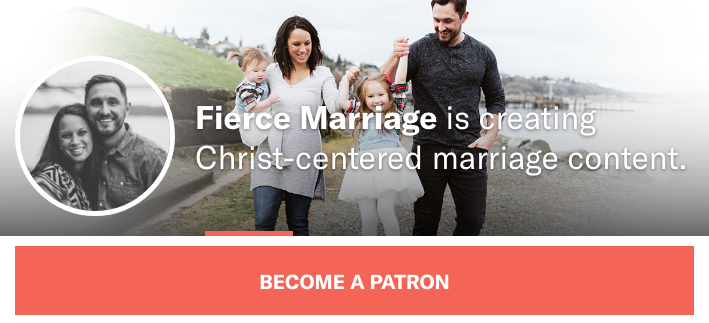 ---