Priorities are and will continue to be one of the biggest issues in every marriage. When your priorities are out of whack, it hurts. And when they're properly ordered, everything just feels right. What would you say your ideal priority list looks like? Maybe something like this:
God
Others (spouse, then kids)
Everyone/Everything else
Depending on the day you may be good at keeping those priorities. If you're like us—human—you probably find it hard to keep your priorities in check when life gets busy and marriage feels difficult.
In today's podcast, we look at the above traditional "Christian priority list" and call to question whether or not it's the most helpful way to think of priorities. We hope you'll join us by listening in!
Mentioned in Today's Show:
Show Notes:
Fighting for Healthy Priorities When Life Gets Busy and Marriage Feels Hard
Rapid Fire Q&A: Selena is forced to answer some tough questions… namely, one she never thought she'd have to face.
Hear one of the most poetic letters from a husband to his wife.
(Go to https://fiercemarriage.com/podcast to write and send a letter to your spouse!)
We discuss priorities:

Scripture: Matthew 6:33 and Psalm 90:12
Common problems What's wrong with "The List"
We propose a better/more integrated model for priorities
The Couple's Challenge (See below)

We finished with our Highs & Lows for the week prior.
Prayer
Today's Couples Challenge:
Create a family vision statement (family verse, mission, core values, envision statements). Listen to the episode for more details about what this could mean for your family!
Don't forget!
Please SUBSCRIBE, RATE, and REVIEW this podcast on your app of choice. It takes 30-60 seconds, and it helps get the word out about gospel-centered marriage. Thank you!
Have a question?
During each episode, we encourage listeners to share their stories, ask questions, or write letters to their loved ones… all with the potential of being read during the show! Anything goes…
Click the appropriate button below! We'll take care of the rest.
Or… leave us a voicemail!
Call: (971) 333-1120
Note: by dialing the above phone number and leaving a voicemail, you are granting us permission to include your voice in our podcast.
More questions?
Feel free to write any questions in the comments below. We just might do an episode on it. :)
---
We'd love your help!
If our ministry has helped you, we'd be honored if you'd pray about partnering with us. Those who do can expect unique interactions, behind-the-scenes access, and random benefits like freebies, discount codes, and exclusive content. More than anything, you become a tangible part of our mission of pointing couples to Christ and commissioning marriages for the gospel. Become a partner today.
Become a Fierce Marriage Partner Today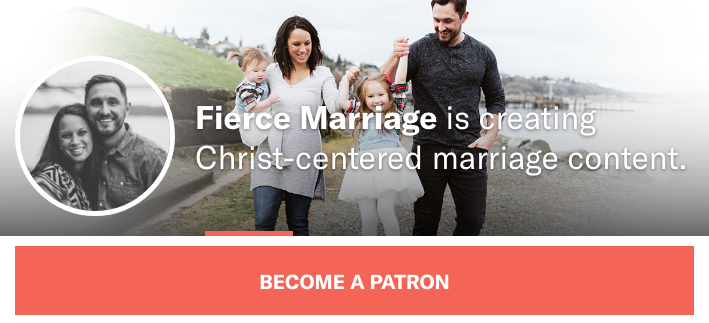 ---