A few months back we asked readers (you) what sort of content would help you and your marriage most. To be honest, your answer surprised and delighted us: you asked for a podcast!
So, after years of wishing and wondering if we should launch it, we've finally taken the plunge into the world of podcasting! Your request was the final nudge we needed to get the ball rolling. And this feels like just the beginning.
Here's the crazy part: recording our first episode was one of the most fun, hilarious, and rewarding experiences we've had together in a very LONG time. It's definitely our new favorite medium! We hope you enjoy listening to it as much as we enjoyed creating it.
We hope you'll join us on our podcasting journey. This is day one and we have a long way to go. Lots to discuss. Plenty of new friends to meet and incredible stories to share.
Here's a little more about what you can expect from The Fierce Marriage Podcast.
Weekly Episodes
Join us each week as we laugh, ponder, and have honest conversations about all things marriage: sex, priorities, communication, finances, purpose, and everything else.
Interaction with listeners
We also need your input, questions, and stories! You can submit questions, call in (yes, with a phone), and write love letters to your spouse that might be shared in an episode. We'd love for this community to include people just like you… questions, stories, and all. Everything goes.
Click here to call in, leave a message, or send a letter.
Excellence
We will do our best to include relevant resources, show notes, transcripts, and quality audio. This is all new, so your patience is much appreciated. Again, your comments are welcome via the link above.
Onward!
If you can't tell, we're excited. Giddy, even. We sincerely hope you'll join us! It's going to be a blast. Feel free to leave questions in the comments below and we may discuss yours in next week's episode…or use this link.
That's it for now! Much love, and stay fierce,
Ryan and Selena
---
Show Notes:
It's our first episode so some introductions are in order! In this episode of The Fierce Marriage Podcast, we'll answer common reader questions like: Who are we? What is Fierce Marriage and why did we start it? What does it mean to truly have Fierce Marriage? Just for fun, we'll talk about what it's like working together, our weekly highs and lows, and more. Most importantly, we discuss what it means to have Jesus truly at the center of your marriage. We also have a few hearty laughs as Selena answers this week's "Rapid-fire Q&A" questions.
Transcript:
We're still figuring this part out. Please stand by!
Leave a Voicemail
Click here to call in, leave a message, or send a letter.
Listen, Subscribe, Rate
The internet thrives on reviews and ratings. It would mean a ton to us if you'd take a second to leave some feedback (for us, and prospective listeners). For reference, always remember:
Listen
Subscribe
Rate
That covers it, thank you!
---
We'd love your help!
If our ministry has helped you, we'd be honored if you'd pray about partnering with us. Those who do can expect unique interactions, behind-the-scenes access, and random benefits like freebies, discount codes, and exclusive content. More than anything, you become a tangible part of our mission of pointing couples to Christ and commissioning marriages for the gospel. Become a partner today.
Become a Fierce Marriage Partner Today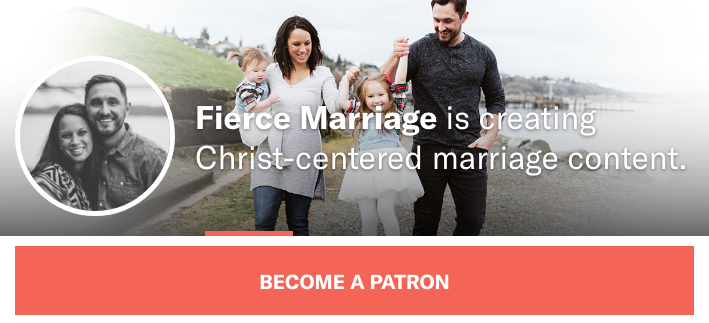 ---