This past year has been incredible. For us, it's been a year of change, a year of momentum building, and a year of immense growth. Though God is present and working in every moment, in the past year His work has been especially evident to us. There have been hard times for sure (the loss of friends and family, sickness, and stress), but God was always good and faithful to thicken His presence when we needed Him most.
We hope you can say the same. Every year is a blessing from God, as no moment is guaranteed. As you prepare your heart and mind for 2016, we wanted to quickly reflect back to the content our readers (you!) have enjoyed most on the Fierce Marriage blog. 
You may be a long time reader of FM, or you may be just finding us. Either way, here is a list of the 7 most read posts of 2015. I hope you find one worth reading, and may it help you and your spouse make 2016 the best year of your marriage yet!
Our 5 Most Read Posts in 2015
This is a little ironic…it's our post from this time last year. It's funny because I decided not to do another post like it this year (maybe I should reconsider?). The good thing is that the truths are timeless, and if you're looking for resolution ideas to build your marriage, it's a great place to start!
Health is something everyone wants, but when it comes to marriage, true health begins in unexpected places.
This post is our take on Dr. Gary Chapman's iconic "5 Love Languages" framework. We are learning more each day what it means to speak each others' love languages. We've still got tons to learn.
It's a true game changer for EVERY married couple we've talked with who has implemented Dr. Chapman's wisdom.
Sex is great when in the context of a healthy marriage. And it's no surprise that folks are interested in reading about what it means to build a great sex life. Warning: some of our rationale isn't what you might expect. Perhaps you'd like to read and find out? (Don't forget about part 2 of this series as well!)
It's funny, I wrote about our "15 Second Kiss" experiment in about 20 minutes (most blog posts take 2-3 hours to write). It's been our most popular post since the inception of this blog. TONS of readers have remarked on their own experience with the experiment, and if you've not tried it I highly recommend you give it a shot. You can read about our experience in the blog post, and please feel free to chime in via the comments with what you discover!
As a husband, I wrote about what Selena says to me that encourages me most. As it turns out, many men feel the same way! If you're a Fierce Wife looking for new ways to connect with your man, this may be the place to start.
Wandering eyes are an ongoing struggle for most men. In this post, I shared candidly my own journey/struggle, and why it's WAY better to learn to control your eyes than not.
Cheers to a wonderful New Year
Selena and I sincerely hope you and your spouse have an incredible 2016. In 365 days, when we look back, I hope we can ALL look back at a year anchored in Christ, found in his goodness, and families that are thriving in God's wonderful grace.
Go in peace this year, God is good!
---
Find an image to share. Just click, expand, share, enjoy!
Have you heard of the The 31-Day Pursuit Challenge?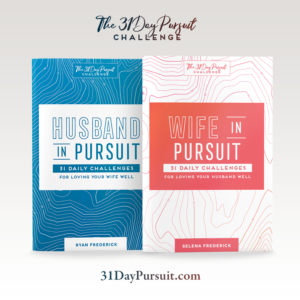 Every marriage begins with passion, purpose, and pursuit, but few stay that way. That's why we wrote Husband in Pursuit and Wife in Pursuit Together, they make what we're calling the 31-Day Pursuit Challenge. Couples are encouraged take the challenge together. We're already starting to hear stories of transformed marriages! Are you up for the challenge?