Ok, it's been longer than usual between posts. My apologies for that. I promise our excuses are good…
We've learned to accept scarcity on the blog-front for two major reasons:
We're having a baby any day now and Selena feels the full effect of being 38 weeks pregnant!
We've been focused on finishing up our new couple's devotional, Two as One.
So, this is an update of sorts to make sure we're keeping everyone in the loop. We really do have fantastic readers (you!), and sometimes we forget to show you how much we appreciate you… because we're busy.
Update 1: Daughter #2 is almost here!
As I mentioned, Selena is very pregnant. I'm not sure if it's wise to word it like that but I'm sure you get the point. (Note: she is the most stunning pregnant woman I've ever laid eyes on!) That means we've been working hard to prepare for the latest edition to our family. We have baby girl #2's nursery ready, our "go bags" are packed, and all most of the arrangements have been made.
God is good. Selena and the baby are in perfect health, which we've learned not to take for granted. We really do feel blessed beyond anything we deserve. The only explanation is that God is good, gracious, and inexplicably generous. Even if we were facing different circumstances, He'd be just as good, gracious, and generous for less overt reasons. For now, we can see His goodness easily and we're grateful.
Update 2: Our 30 day couple's devotional just released!
Since day one of Fierce Marriage, Selena and I have spent countless hours praying and figuring out how to intentionally help our readers grow closer to Jesus. Many couples tell us they're looking for practical, gospel-centered content to help their marriages.
We've also received tons of positive feedback to our Instagram posts which usually include an image coupled with a short-ish (ok, they're long) caption. Each image serves almost as a "mini devotional" for folks perusing their IG feeds. We do that intentionally in hopes that it's a "Gospel reset opportunity" in an otherwise confusing social medium rife with comparison.
Given the feedback we've received, we asked ourselves two questions:
What if we created a visually beautiful, gospel-centered couples devotional that feels similar to our Instagram images? 
How can we help our readers grow closer to God and their spouses in fresh, new ways?
Well, after a year of writing, designing, and prayer we're excited to reveal "Two as One: Connecting Daily with Christ and Your Spouse". It's a 30 day couple's devotional designed specifically to help you establish a solid habit of reading God's word together. 
Click here to visit TwoAsOneDevotional.comHere's what it looks like: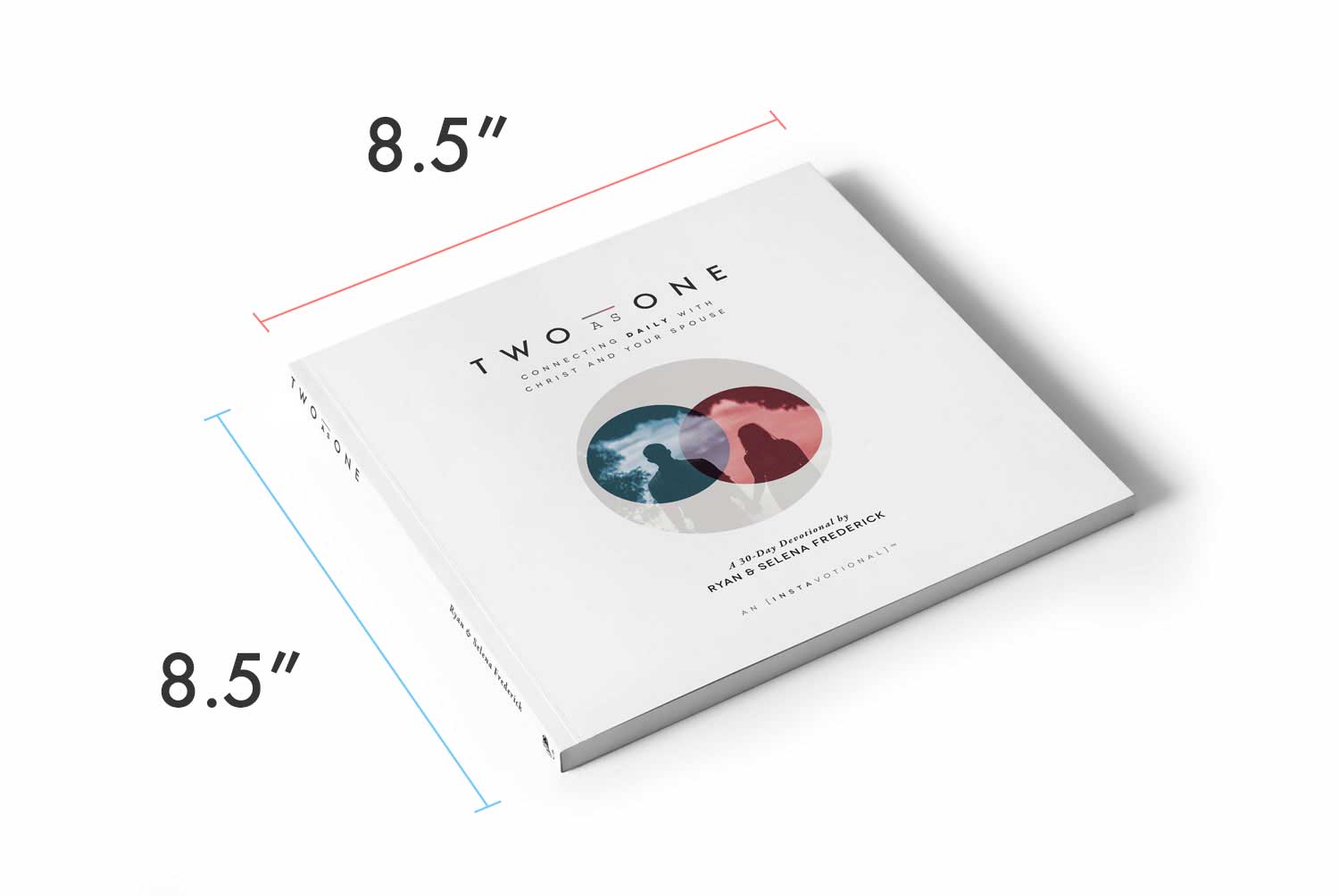 We tried to combine everything we love about devotionals (Gospel-centered, scripture based, applicable to real life) with everything we appreciate about Instagram. The result, a new format called an "Instavotional". We're pretty excited about it, and as it turns out, so were many other people!
Note, the rest of this post is the story of our launch excitement. :) If you just want to learn more about the book, head over to this special website we built just for that purpose!
Or click this obnoxious button, your call :)
Launch day excitement!
When it came time to announce Two as One, we sent an email to our subscribers and created a Facebook post:
The initial response seemed positive. I left my desk to go to the gym, and when I came back… things started snowballing:
I'm not sure what we expected when we listed a self-published, Christian marriage book on Amazon.com, but it wasn't this…
I went to bed on Thursday night super tired and grateful for what felt like a successful launch. I figured we had a quick peak in sales which would taper off fast. However, things keep getting more exciting!
As of this writing, our little devotional sits between versions of Dr. Gary Chapman's legendary book The 5 Love Languages and just above Tim & Kathy Keller's The Meaning of Marriage in Amazon's "Marriage & Adult Relationships" category.
What. Is. Happening?!?
Both Drs Thomas and Keller are irreplaceable influences in my life (and Selena's) and helpers to millions of people around the world. We never once considered having a piece of our work placed alongside theirs anywhere to be a possibility.
The below screenshot isn't meant to be a brag. It's meant to be a celebration! Who knows how long we'll rank at #2, but it will be really fun to see.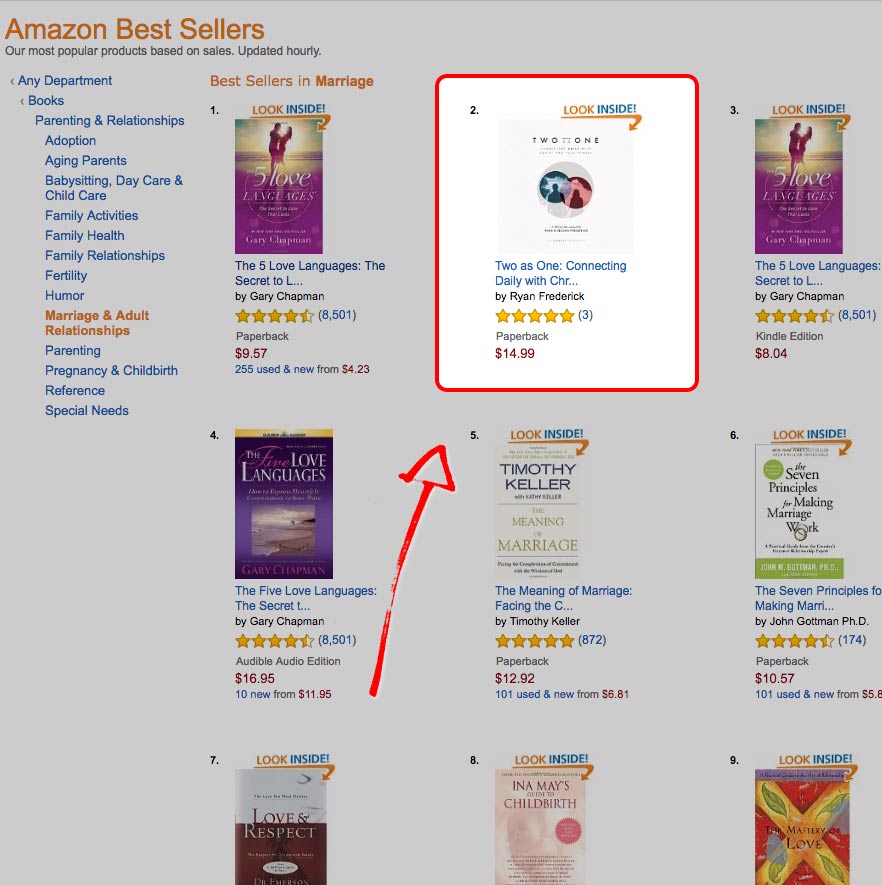 Onward: the Gospel and Your Marriage
It's very fun to pause and celebrate things like this, and I think it's important we take the time to do it. However, it's not the reason we exist. Jesus is.
Jesus will continue to be our primary pursuit and telling his story our life's ambition. Now, we get to continue the "valley work" of writing here on the blog, pointing couples to Christ at every opportunity, serving in our local church, and discipling those in our immediate lives. And last but not least, we get to continue discipling and raising Dela and our soon-to-arrive daughter #2.
If you're a regular reader and a passionate proponent for the Gospel, this victory is as much yours as anyone else's. We are cogs in God's big machine, here to simply play our roles in reflecting his glory to show more people just how good, gracious, and generous he is in Christ.
Thank you for joining us in this journey; we thank God for you!
Have you heard of the The 31-Day Pursuit Challenge?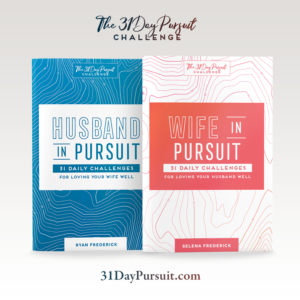 Every marriage begins with passion, purpose, and pursuit, but few stay that way. That's why we wrote Husband in Pursuit and Wife in Pursuit Together, they make what we're calling the 31-Day Pursuit Challenge. Couples are encouraged take the challenge together. We're already starting to hear stories of transformed marriages! Are you up for the challenge?