In a previous post (TIME), I mentioned that one of Ryan and I's favorite things to do is to take road trips together! We absolutely love DRIVING – we look forward to getting on the road and driving away for a few hours. Getting away and spending quality time with your spouse doesn't have to be expensive or exotic.
When we were first married, Ryan and I spent many weekends only 2 hours away at a small fishing town in Washington state known as Westport. The beach became a very special and memorable place to us, not because of the food or the activities, but because of the memories, laughter, and even difficult conversations that we've had to work through that happened there.
Adventures are less about WHERE and more about FRIENDSHIP. As we walked down Bayswater Road next to Hyde Park in London this past January, we were reminded of how blessed we were to be there. We talked about all of our adventures together during our marriage, and whether it was driving to a small beach town or jet-setting to London for the holidays; wherever we go, we have a great time simply because we are TOGETHER.
When we started our dating relationship, Ryan and I had already spent a ton of time together as we had the same group of friends and were involved with similar activities. Our values and priorities were almost identical.
Our first year of marriage was a bit of a whirlwind. We were about to start our third year of college, as well as maintaining full-time jobs; being heavily involved in church ministry, and taking a full load of college credits…needless to say, I look back and wonder how we did it all. We didn't have a ton of extra money to burn on exotic trips, so we took on a bit of a DIY attitude; it was weekends away at the beach, or driving up to the mountain for the day — it was all about being creative on a budget.
I'm so blessed to have a husband who loves to get out on the weekends and go hiking or find something (free is always good). Ladies, here's a great opportunity for us to enthusiastically jump on board with our hubby's. Don't get me wrong, there are times where I just want to lay around the house in my pjs and watch movies all day (and sometimes THAT is what you need to do!).
However, more often than not, when I set aside my feelings and say, "let's do it!" Ryan lights up, feels fulfilled and excited to spend time with me, and I in return am affirmed and excited that he is excited to spend time with me. It's a win-win for everyone and in the process, I've expressed honor and love towards my husband, as God asks me to do.
To recap, here's what I call the 3-D's to adventure in your marriage (PS. It's safe to assume cell phones are off or put away):
Driving: Day drives are a great opportunity for you and your spouse to talk; catch up on the week and maybe working out some tension (you can't go anywhere when a car is moving 60 mph on a highway), pray together and start some "dream" talk.
Do things TOGETHER: Again, no matter where you go -BE there and do it together and remember how blessed you are to be there, healthy and alive.
DIY: (A slightly different spin as I'm not talking about DIY crafts) Having fun doesn't have to cost a fortune. Picnics, hiking, jogs (and walks) around the park, bike riding, heading to your local Saturday street market are just a few things we personally enjoy. Side note: DIY's are a bit of a joke around our house – everything I try to DO myself typically turns out to be extremely involved and of course, I've underestimated everything about the project (thank you misleading DIY websites).
Have you heard of the The 31-Day Pursuit Challenge?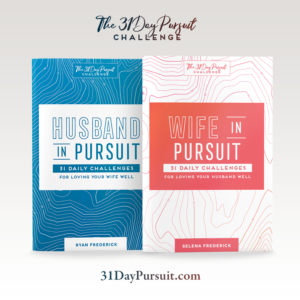 Every marriage begins with passion, purpose, and pursuit, but few stay that way. That's why we wrote Husband in Pursuit and Wife in Pursuit Together, they make what we're calling the 31-Day Pursuit Challenge. Couples are encouraged take the challenge together. We're already starting to hear stories of transformed marriages! Are you up for the challenge?