Few things have been as impactful in our lives and marriage as our family vision. Years back when we felt aimless and flustered, we took the time to have in-depth discussions about what matters most to us: as Christians, as a family, and as a couple. The result was our family vision statement, which has helped us immensely since.
Listen to today's episode as we talk through our family vision statement and share about how you can create your own!
Download the Family Vision Worksheet HERE.
Our latest episode is also officially live on iTunes (and the Android podcast app of your choice).
Listen to this week's podcast:
Listen below, or better yet, choose a button above to subscribe on your device!
Show Notes:
A Family Vision Statement helps in three ways:
Direction
Discernment
Unity
How can you write your own Family Vision Statement?
Start with why?

Your why statement is your "big reason". It's like a mission statement for your life.
Find a verse that encapsulates how God is calling you.

Discover your core values

Your core values are already there, you just need to define them.
This isn't a list of ideal characteristics, but rather a list of intrinsic qualities about you, your marriage, and your family.

Craft your vision

Write a group of "we envision" statements that describe how your family will look and function in the years to come. Get creative!
Try to write at least one envision statement for each core value you've discovered.
Couple's Challenge
Complete it together, praying along the way.
Mentioned in the show:
Thanks for listening! Submit questions and comments by visiting https://fiercemarriage.com/podcast.
Stay fierce,
Ryan and Selena
Don't forget!
Please SUBSCRIBE, RATE, and REVIEW this podcast on your app of choice. It takes 30-60 seconds, and it helps get the word out about gospel-centered marriage. Thank you!
Question or comment?
If you have a question, ask! Anything goes. Click the appropriate button below to submit a question or story; we'll take care of the rest.
Leave us a voicemail
Call: (971) 333-1120
Note: by dialing the above phone number and leaving a voicemail, you are granting us permission to include your voice in our podcast.
More questions?
Feel free to write any questions in the comments below. We just might do an episode on it. :)
---
We'd love your help!
If our ministry has helped you, we'd be honored if you'd pray about partnering with us. Those who do can expect unique interactions, behind-the-scenes access, and random benefits like freebies, discount codes, and exclusive content. More than anything, you become a tangible part of our mission of pointing couples to Christ and commissioning marriages for the gospel. Become a partner today.
Become a Fierce Marriage Partner Today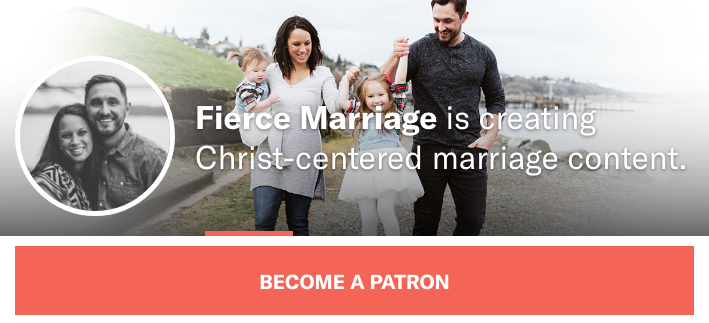 ---