In this blog, Ryan and I continue to aim for transparency and honesty. I'm not convinced there are 3-steps to success in any area of life…especially marriage.
The Issue
Being a Washington native (go Dawgs!) and horse-crazy as a young girl, I've had my share of trudging through the rain and thick wet mud. Having lost more than one rubber-wellie boot in ankel deep sludge while leading a crazy horse back to the barn is a cherished and familiar memory…
Let's just say that Monday reminded me of these wet Washington horse days.
After a beautiful (and warm) weekend out photographing at the horse show, I'd come home pretty exhausted and ready for my day "off."
My evening routine of editing and getting images out in a timely fashion for my clients had finished and I was beat. (Comfy sweats (check), pizza for dinner (check), vegging out on the couch (check).)
Waking up on Monday was tough. All my intentions of taking the dogs out on our daily morning run quickly disappeared after I woke up later and slower than usual.
More Mud
Getting into my devos was tough. Deep frustration and feelings of disconnectedness were setting in. Then came the tears, and then the anger. The all too familiar battle of my faith was about to go down.
Thoughts about how living somewhere else would be the solution for me to really experience God. Or maybe if I was a better business person, I would have already had the money for that new camera. I want more financial security; I need this, I need that…
Handing over the keys of my heart to feelings of failure and insecurity landed me straight in the mud puddle of me.
The more I struggled to get out of this "mud" the more frustrated I got. (Have you noticed all of the "I" statements yet?)
Ryan's Devos
Thankfully, my incredible, God-fearing husband walked over to comfort me. It wasn't his affectionate hugs that washed away all my mud of confusion and fear (although they do at times); it was his relationship with Christ that aided my rescue.
As Ryan started sharing everything that God had been teaching him in devo's this past week. He challenged me to go to the well; dig deep and allow God to refresh my soul. Once again, the Lord's timing is impeccable.
Struggling through the idea of allowing God's grace to cover me and refresh me was tough. Working everything out on my own seemed easier, clearer, and a sure-thing.
Thank you GOD for a husband who seeks the Lord! It's in these dead-end, stuck moments that I needed Ryan to share God with me. Ryan couldn't pull me out of the mud, but he could point me to the One who could and who is more than able.
Apostle Paul
Remembering the apostle Paul in 2 Corinthians 11 (verses 16-31) and how he boasts in his challenges and weaknesses. Why? Because these were opportunities for Christ to be glorified.
When we come to the end of us, Christ and his power begin.
Paul's hope was not in earthly things (food, money, a roof over his head…a camera, a nice home, a "better" place to live) – his hope was in Christ; in the promise of eternity. His perspective on the lack of these "things" were that they hardly held weight.
In fact, he boasted in his weakness! (Crazy right? To boast in your lack? Or what you think you lack.)
Grace, Weakness, Power
2 Corinthians 12:7-10 brought it full circle for me (I recommend beginning in verse 1 in order to understand the full context).
Paul says (vs. 8):
"I pleaded with the Lord about this, that it (the thorn) should leave me. (v. 9) but he said to me, 'My grace is sufficient for you, for my power is made perfect in weakness.' Therefore I will boast all the more gladly of my weakness, so that the power of Christ may rest upon me. (v.10) For the sake of Christ, then, I am content with weaknesses, insults, hardships, persecutions, and calamities. For when I am weak, then I am strong."
Praise God that in my weakness God's power is made perfect. And let me tell you friends, weakness was an understatement on Monday.
The True Source
When I went to the Source, I was filled.
Not by Ryan, not by anything he did or said – the Lord used his words to set the stage, but it wasn't until I really dug into God's Word (the bible) that I found strength, and deep refreshment, and true hope.
Wives, our husbands are the head of our house holds – yes, that is biblical. But this is not synonymous with them being our source of joy, fulfillment, and refreshment. It's unfair of us to put such expectations on them.
God is our Source.
Invite Jesus into every moment (weak or strong). Go to the Source, together and individually. Allow God to minister to you through your spouse, and through you to your spouse.
Question: Are you or your spouse trudging through some "mud" in your marriage? How has God ministered through/to you?
Have you heard of the The 31-Day Pursuit Challenge?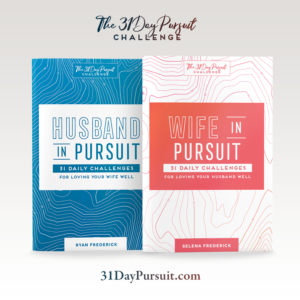 Every marriage begins with passion, purpose, and pursuit, but few stay that way. That's why we wrote Husband in Pursuit and Wife in Pursuit Together, they make what we're calling the 31-Day Pursuit Challenge. Couples are encouraged take the challenge together. We're already starting to hear stories of transformed marriages! Are you up for the challenge?