We haven't always been the best at dating. Sure, we've been out to dinner and done many activities in the name of pursuing each other, but we haven't been as intentional about it as we would've liked. And as our family has grown we've found ourselves dating even less. But we hope to change that. :)
Last month we announced that we would be embarking (with you, our readers) on the "Unforgettable Date Challenge". The idea is simple: we commit to having at least one unforgettable date each month. This doesn't mean our dates are super elaborate or expensive, just intentional.
To do that, we decided to give Datebox a try. My friend Brett started the company after realizing that many couples feel just like us. We want to go on great dates, we just don't make the time or have creative ideas. He set out to fix that. We just received our first Datebox, and it was a blast! I'll describe that below (and give you a chance to try it free), but first here are some things we learned about dating along the way.
After our at-home date, we realized that there are a few aspects that make dates truly unforgettable. Unforgettable dates don't have much to do with what you do or where you do it, but how you connect deeply with each other.
Here's what we learned:
3 aspects of unforgettable dates after "I do"
1) Intentional connection
Every remarkable experience Selena and I have together has one thing in common: we connect. Connection takes many forms for us. It can be laughter and joking, meaningful conversation, just being together, or tender physical affection.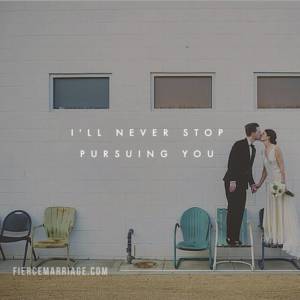 Connection is what marriage is all about. Deep oneness. It's just how we're wired. That's what makes it so powerful and fulfilling. The thing is, we're often too distracted to really connect with each other.
This is why we usually leave our phones at home or in a drawer. We've found that by setting the stage for connection we're much more likely actually connect.
2) Creativity
For us, our default "date" is pretty boring. We usually just watch a movie or TV show after going to dinner, etc. That's fine and definitely fun (i.e. relaxing), but easily forgettable.
Creative dating has a way of taking us out of our comfort zones, and that always makes for a memorable experience.
Creativity costs us something (time and energy to plan), and that usually means we're much more "bought in."
3) Time and energy
Distractions in life tend to absorb all of our extra time and energy. It's important to leave margin in life to do things that really matter, and that means we set aside time and energy to make them happen!
it's also vital to plan so you'll have time and energy to truly engage with each other. For Selena and I, this usually means we schedule it for an early evening or Saturday morning.
Friday nights are typically considered date nights, but for us, by the time it hits, we're zonked. We work hard all week, and we usually just want to relax. Not an optimal time for connection. Schedule your dates at a time where you won't feel pressed for time and you'll have energy to give each other your best.
Now, here's how November's "unforgettable date" went!
Our Datebox experience
Ok, so we were supposed to have our date around the 24th of the month. That's because the 24th is the day of the month that Selena and I had our very first date. This time we were about two weeks late… sigh. But we have excuses!
Late is better than never
The USPS lost our shipment. Then we moved (again). Then the food in the box was spoiled. Sounds like a misfire, right?
Thankfully the Datebox team worked with us to get an unspoiled box (special delivery!). We were able to replace the ingredients that had gone bad with standard items from our fridge. It could have been much more frustrating, but like I said, the team was very helpful! (In speaking with Brett, he mentioned that they gave another free month to subscribers who had a similar experience… FYI in case you used "FIERCEMARRIAGE" to get your first Datebox for free.)
Datebox contents
When we finally got our hands on our Datebox, we were blown away by how much they packed inside! It was downright heavy…
Here's what was included:
Ingredients for dinner (Basil Pesto Savory Crepes)
(chicken (with a cold pack), spinach, sauce base, basil/pesto mix, crepe mix, garlic, onions, seasonings)
Ingredients for dessert (Bananas Foster)
(banana, cinnamon/brown sugar sauce mix, crepe mix)
Cooking instructions
Access to a custom video cooking class, hosted by a renowned Chef! (Web address listed on a card inside)
Cards to write and send each other an encouraging note with postage paid
Two (2) Datebox aprons (clothing underneath optional… just kidding… sort of.) :)
Overall Datebox Review
We had a very enjoyable experience! To be transparent, we did argue at first because we've been overly stressed lately… and haven't been "connecting" (read above) but we worked through it.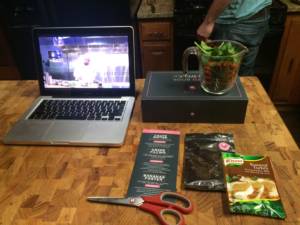 The food: amazing! We've never cooked crepes before, and the recipe included flavors that are uncommon for us. Savory crepes for dinner with Bananas Foster for dessert!
The process: Both dishes sounded intimidating to cook, but the video was so easy (seriously easy – about 6 minutes long), and all the key ingredients were included in the Datebox. It demystified the whole process, kept it simple, easy to follow, and the results were rewardingly tasty.
The video: awesome! It was produced specifically for this Datebox with total quality and professionalism.
Our household sticks to easy, simple dishes. For the first time in the history of our marriage we made crepes and Bananas Foster… both of which I would've considered restaurant quality! We enjoyed the entire process together (both preparing, cooking and of course, eating) and we laughed at ourselves along the way.
It stretched us and forced us to work together in ways that we don't usually. Overall, even with the mishap of getting our Datebox, it was an extremely unforgettable date!
Join Now, Get a Free Datebox
Full disclosure: Datebox supports this site. Rather… we've partnered with Brett and Devon (Datebox founders) because they believe in Fierce Marriage and we believe in Datebox. We love what they're doing and vice versa.
Every month, we'll unpack our box and our experience here. Selena and I call it the "Unforgettable Date Challenge", and it's our effort keep things fresh in our date life together. We'll write and ask readers to respond with what they experienced. Then we can converse and grow alongside couples around the world! Nearly 1,000 couples have joined the challenge, and if you haven't we'd love to have you on board!
I hope you'll join us. Here's a summary of what you can do to be a part of the challenge.
1) Commit to 1 unforgettable date experience each month with your spouse
2) Use promo code "FIERCEMARRIAGE" to get a month FREE on us ($5 shipping applies).
3) Join the conversation when we post our date experience each month.
Sign up today and get your FREE Datebox on us!*
*Don't forget to use the code "FIERCEMARRIAGE" on the checkout screen to get your free box.
Gift idea: Give your spouse your first Datebox for Christmas, then keep the dates going into the new year!
December Datebox Preview
Here's a preview of what's in the December box (rough language provided by Brett via text message… lol) You don't be able to find this on their website…
Gingerbread house ingredients
Gingerbread house contest (build your house, take a pic, tag it, and win ridiculous prizes like a 5 day trip to Maui, a $1,000 VIP date night of your choosing, and a 12 month Datebox subscription)
Two Christmas mugs
Hot chocolate
A Christmas music playlist
A Redbox code to rent your favorite holiday movie
Sign up today and get your FREE Datebox on us!*
Phew… that's a ton of info. Thanks for your patience, and happy dating!
Questions:
What was your favorite date experience ever?
If you're a Datebox subscriber, how was your date experience?