The other day, Dela brought her little children's Bible over for me to read to her. She loves looking at the colorful pictures. Her and I started reading about original sin in Genesis and about Adam and Eve in the Garden of Eden.
As I was reading it to her, and we came to the part where God was confronting Eve about her sin (eating the fruit from the tree of knowledge of good and evil) she answered God; and blaming the serpent she said, "He lied to me."
He lied. 
Ugh, it struck a chord so loud and deep in my heart. How often are we held captive by believing lies about ourselves, our spouse, who God is, and what He promised in Christ?
The Language of Lies
The language of lies typically begins with an inner dialogue and questioning. Genesis 3 paints a vivid picture of the serpent approaching Eve in the Garden and he starts his deceit by questioning the words God spoke to her and Adam.
"Did God actually say, 'You shall not eat of any tree in the garden'?" (Genesis 3:1 ESV)
How many times do we do this in our marriage? We look at the "fruit" (i.e. sin) on the tree that God said, "Don't eat of this," and we begin to question why God said what He said. The enemy chips away at our trust in God and His Word through questions that we already know God's answers to, but our sin nature still wants what it wants; leaving us vulnerable through our desires.
We want that ideal/picture perfect marriage we see on our friend's social media feed; we want our spouse to be better with money (or even make more of it!) and he/she should really be more like that person's husband/wife because they obviously have it figured out…
Or, if he/she would just want to have sex more…
The enemy paints an image of lack in the lush green garden of our marriage, leading us to believe that we are incomplete unless we eat the fruit that God warned us not to.
Lies, Lies and More Lies
In verses 4 and 5 of Genesis 3 the enemy begins inserting half-truths into Eve's mind. "You will not surely die. For God knows that when you eat of it your eyes will be opened, and you will be like God, knowing good and evil."
Thus begins the enemy's appeal to our ego.
He blatantly lies, "You will not surely die."
For some of us it's: "My marriage isn't going to end if I flirt with that girl/guy through social media. It's harmless." Or, "Just a little porn is ok and probably good to get the sparks flying again," or maybe, "It's not going to break the bank if you purchase those clothes on another credit card."
We begin justifying the "off-limits tree" in our life by not believing God's Word.
The Truth
The truth is that we will die. Maybe not physically, in that moment of sin and weakness, but spiritually we will perish if Jesus had not come to save us (Romans 6:23).
The truth is that most affairs/infidelity these days begin inside the home through a screen.
The truth is that porn is never ok and never a good idea for countless reasons, and there are plenty of broken marriages and individuals left in it's wake to prove it.
The truth is that you and your spouse agreed on a budget and while this purchase may not mean financial ruin, you know it's not building trust and taking steps financially to be good stewards of what God has entrusted you with.
God's Word is truth and it's not there to keep you from enjoying your life! Rather, God gives us commands to ensure we live the fullest and most abundant life that only Jesus can provide! (John 10:10)
Enter: Jesus
So what happens when we do exactly what Eve did in Genesis? When we give into the lies of the enemy – when we break our spouse's trust, or we reject God's Word in our marriage. Ultimately, death happens unless someone intervenes…
Praise God He sent His Son to save us!
Romans 5:8 reminds us of the depth and reality of God's love for us; that while we were (and are) still making the wrong decisions and choosing sin over His promises, He chose to demonstrate love:
"but God shows his love for us in that while we were still sinners, Christ died for us."
At the right time, Jesus came, he lived and died for us so that we can have the opportunity to repent and believe.
Deep Grace and New Mercies
It's inevitable that we will, as Eve did, choose to "eat of the fruit" that God did not intend for us. Many of us have already suffered as a result of sin in your marriage.
Praise God the story doesn't end there!!
In 2 Corinthians 12:9, Paul proclaims His all-sufficient grace and instructs us on how to deal with our weakness:
"But he said to me, 'My grace is sufficient for you, for my power is made perfect in weakness.' Therefore I will boast all the more gladly of my weaknesses, so that the power of Christ may rest upon me."
We can boast in our weakness, because that is when Christ's power is made full in us; ministering to us, in us and through us.
Repent and Believe
It's not up to us to try and maintain a perfect marriage. But it is up to us to continue believing God's Word and trusting Him in the midst of temptation and sin.
When we inevitably fall short, we need to repent. (That's not a word culture loves to hear, but there it is…)
When we struggle with unbelief, we must cry out to the Father to help us with our unbelief. The psalmist reminds us in Psalm 16:11 that we will find fullness of joy; and that He will show us the path of life:
"You make known to me the path of life; in your presence there is fullness of joy; at your right hand are pleasures forevermore."
When the lies sneak in – repent and believe. Dive into His Word, remind yourself of His promises and remember the depth and power of the gospel.
The next time you're tempted to pursue "fruit" of a tree that God has forbidden, remember the enemy's strategy is to steal from us; to kill and destroy us (John 10:10). But Jesus came to set us free and give us life to the full (Luke 4:18).
Blessings, friends. Stay fierce.
Have you heard of the The 31-Day Pursuit Challenge?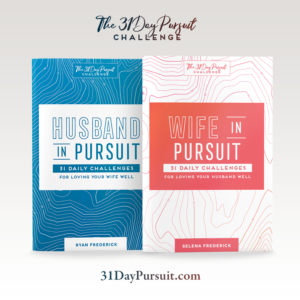 Every marriage begins with passion, purpose, and pursuit, but few stay that way. That's why we wrote Husband in Pursuit and Wife in Pursuit Together, they make what we're calling the 31-Day Pursuit Challenge. Couples are encouraged take the challenge together. We're already starting to hear stories of transformed marriages! Are you up for the challenge?