Well, I think summer is officially HERE in Palm Desert (home for us).
It's hit the triple digit mark for heat temperatures and looks to stay that way until late September.
Summer is one of my favorite seasons (not in the desert that is) – It holds a lot of memories for Ryan and I.
I don't know if it's the transition from cold to warm or the sun is out (speaking more of when I was a Washingtonian), but summer is the perfect time to enjoy quality, OUTDOORS time with your spouse.
Unplug, unwind
Unplug, unwind and spend quality time NOT looking at your phones and social media, but just being where you're at with your spouse.
Camping, boating, hiking, road-tripping to wherever, taking the dogs out to the beach – whatever floats your boat (pun intended) get out with your spouse and do it!
The point of summer is to spend some time (even if it's only a few hours after work) enjoying the sun, BBQ up some meat and sit around the yard hanging out with your family and friends.
You don't have to have a pool or a huge, perfectly manicured lawn to have a great time (it's ok if you do though!)
Rock what you've got and focus on unplugging, unwinding and spending some quality time person to person.
One Idea
Create a working list of "Summer Fun" things to do. Look at it throughout the week so when the warm weather finally finds you, you're ready to go!
Can't think of anything to do – google it!
Picnics, BBQ's, save some $ for gas on a friend's boat when they all go out, go for a run or a hike – there is plenty to do that is easy on the wallet and fulfilling to the heart.
A challenge: write down something new you both want to try this summer! Maybe it's a new ice cream flavor, or maybe it's running a 5k together – find something fun and new that you both can do and will enjoy.
Ryan and I are like little kids when it comes to summer adventures.
It's incredibly liberating for your marriage when you and your spouse spend time laughing, and "playing" – just having a great time together and outside.
Another Idea
Ryan and I love to spend time with other married couples.
Maybe make a mental note of some friends you haven't seen in awhile, but have been meaning to hang out with.
There's no better time than the present!
Set up that softball game you've been talking about for years, or reserve a picnic space at the local park and bring some food.
It's amazing how many times Ryan and I have come away feeling sharpened, challenged and encouraged by our married friends.
Keep it simple and don't get caught up in WHAT you'll do, but simply enjoy BEING with them.
Time with God
One of the best things about summer are the sunrises and sunsets.
Plan a morning/evening with your spouse, grab your journal, your bible and maybe some coffee/hot-chocolate and head out to a beautiful place with a view that breathes life into your soul.
Spend some time in God's creation and with your spouse.
Do your devotions out there and then share them with each other.
Pray for each other and with each other.
Prayer is powerful in and of itself. But there is something intimate and sacred about praying with your spouse.
Seasons and change
Overall, God has blessed us with seasons – with change.
I guess He could have created it so we always lived in spring and daytime, or winter and dark — but that's what I love about God, His creativity.
He marks seasons with change.
So let's soak up this next season by enjoying every moment you have with your spouse.
Time with your husband/wife is limited, let us never take one moment for-granted.
Question: What are you summer plans?
Have you heard of the The 31-Day Pursuit Challenge?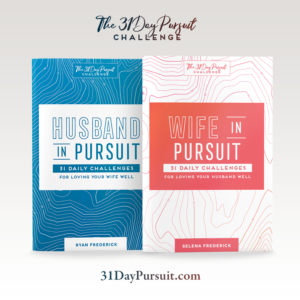 Every marriage begins with passion, purpose, and pursuit, but few stay that way. That's why we wrote Husband in Pursuit and Wife in Pursuit Together, they make what we're calling the 31-Day Pursuit Challenge. Couples are encouraged take the challenge together. We're already starting to hear stories of transformed marriages! Are you up for the challenge?