Whoever said marriage is easy, obviously has never been married.
Let's be honest, we're all at different places in our marriage journeys, and no matter where we are, there is always at least one area that could use a breath of life. Of all the content we post on Facebook, we get prayer requests and questions from people asking "What if my marriage is dead?".
For some, marriage is a heavy burden – a dry desert where life is seemingly non-existent and the hope of life ever re-emerging is next to none.
Maybe you're marriage is facing another type of death through financial burdens, stress from work and or kids, and (I'm sure you can fill in the blank).
Bottom line, we all face moments in life where our marriage is undoubtedly on life-support and we don't know where to go, who to talk to or what to do!
Where do I find true life?
Romans 8 reminded me that life doesn't start with me (me making decisions, me doing this or that, ME achieving this).
True life starts with Christ. Having an intimate and active relationship with our Savior is where it all begins. Christ died so that we might live – not simply get by, but LIVE! Not only are we called to live, but we are given a Counselor to help us know how to live: the Holy Spirit.
Romans 8
In verse 11 Paul writes, "If the Spirit of him who raised Jesus from the dead dwells in you, he who raised Christ Jesus from the dead will also give life to your mortal bodies through his Spirit who dwells in you." (ESV)
In the verses leading up to it, Paul explains how when we live according to the Spirit, we are set free from the burdens and bondage of sin. So how do we live according to the Spirit? By dying to our flesh.
Easier than it sounds…
When you feel that hurtful word swelling up in your chest and you don't think there is anything you can do to stop it from coming out and hitting your spouse right where it hurts–die to your flesh and resist.
When you're undoubtedly right and he/she is clearly wrong — die to your flesh and extend mercy.
The Holy Spirit
The same Spirit that raised Christ from the dead lives in us as believers and "will also give life to your mortal bodies" (vs. 11). Praise God!
We are not suppose to navigate this life alone. God has given us a Helper (John 14:26) – Paul reiterates this in (Romans 8) vs. 26: "Likewise the Spirit helps us in our weakness. For we do not know what to pray for as we ought, but the Spirit himself intercedes for us with groanings too deep for words."
He (the Holy Spirit) intercedes for us – and that's not all…
In Galatians 5:22-23 (ESV) we can see the fruit of the Spirit – meaning the fruit that will be in our lives when we surrender and allow the Holy Spirit to lead and guide us: Love, joy, peace, patience, kindness, goodness, faithfulness, gentleness and self control!
I will be the first to admit that I could sure use fruit like this in my marriage.
The why?
God gave His one and only Son to die for us. He raised him back to life and he (Jesus) now sits at the right hand of God interceding for us (Romans 8:34) and God has given us a great Counselor and Helper to bring life back to our marriages.
Why? Because He loves us.
He is forever, continually, unconditionally, eternally and completely in love with us.
My friend, life for your marriage is found in God.
If you are a believer and follower of Christ, the Spirit that brought Jesus back to life after the cross, lives in you – guiding and counseling you.
Why? Because God loves you.
There is nothing that can separate us from His love (Romans 8:35).
Don't allow the menial tasks of this world to overwhelm and distract you from bringing true life into your marriage. Spend time with your Savior – pray and listen for the Counselor and know that you are loved by the Father.
Resources: If you're not familiar with the Holy Spirit, I would highly recommend Francis Chan's book:  Forgotten God. It opened my eyes to who the Holy Spirit is and how to interact with him.
Have you heard of the The 31-Day Pursuit Challenge?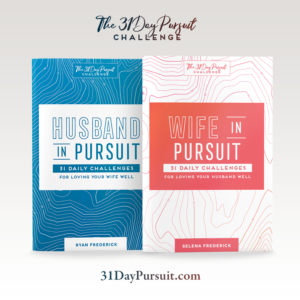 Every marriage begins with passion, purpose, and pursuit, but few stay that way. That's why we wrote Husband in Pursuit and Wife in Pursuit Together, they make what we're calling the 31-Day Pursuit Challenge. Couples are encouraged take the challenge together. We're already starting to hear stories of transformed marriages! Are you up for the challenge?