This year we're trying to do something different. We're not too different from most folks in that we've exchanged thoughtful cards, I've given Selena roses, and on a few occasions, jewelry. But this year, our entire focus has changed to treasuring each other.
My tendency is to wait until the last minute, buy something to make up for lost time, and hope Selena feels loved. As a marriage blogger, I feel pressure to make it extraordinary…and to write something that will somehow communicate the importance of romance in marriage in a new and unique way.
Here, I just want to speak to couples (you) and share some thoughts I've had this year on loving my wife authentically.
"Loving your spouse authentically" makes sense when you say it, but what does it really mean? How can I love Selena authentically, and show her so she feels loved. How can I best communicate my love to her on this special day? (Note, we do think V-day is a special day…here's why.)
Here are some thoughts I've been kicking around in my head; I hope they help you make the most of Valentine's Day this year:
1: Special doesn't mean expensive
You don't need to break the bank to express your love extraordinarily. This year, set aside some serious thinking time to reflect on your relationship and your spouse's personality and desires. How did you show your love in the early years of your relationship? Let your imagination run wild. How can you show him/her you know them deeply, and care for them equally as much?
Maybe recreate your first date together? Or perhaps take them to a place that's special to you both (where's the first place you held hands? kissed? Said "I love you"?). A little thoughtfulness goes a long way toward showing him/her they're treasured.
2: BUT…any extravagance is well spent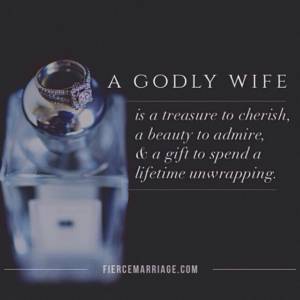 While consumerism for its own sake is usually a bad idea, extravagance in the name of love can be very good. I'm not talking about being irresponsible with spending, but being sacrificial. In Song of Solomon (start reading here), the writers speak with extravagant language as they express their love for one another. They lavish each other with gifts of immense value. Why? Giving is a natural outpouring of love!
How can you be more extravagant this year? I'm not talking about just dropping a ton of cash, but how can your actions be extravagant? Think a bit… I bet you come up with something amazing.
3: Brush up on your charm
Selena and I love to relax together and "let our hair down" as much as the next couple. However, we've learned that there's still something super romantic about charming one another. When we first started dating, we were both on our absolute best behavior. I remember taking her to prom one year in high school and sparing no expense. I tapped into my summer job earnings for whatever I could afford – to both ask her to prom in an elaborate way and to take her to the actual event.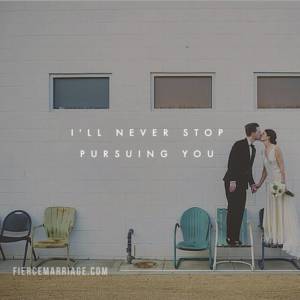 A few months after our daughter was born, we went on a date to a nice restaurant. Someone had given us a gift card, so we got to go to a restaurant that was well outside our normal means. We both dressed up, Selena did her hair and makeup, and I got a haircut and did all I knew to look my most dapper.
My experience? It was so amazing to take this woman, my wife, to a nice place and treat her like the treasure she is. What a contrast it was from our early parenting day-to-day activities; changing diapers, cleaning spit-up, and forgetting to shower (don't judge us!). My point is this: it's good to remind ourselves of the privilege it is to have one another, and one way to do this is to spend some extra time and energy on getting into your nicest clothes and 'putting yourself together'.
Taking back Valentine's Day
The theme unfolding here, and the one I want us all to grasp (including myself), is to treasure your spouse this Valentine's Day. Treasure them.
Don't let this opportunity pass by. Give you spouse a memory they'll never forget!
It doesn't mean you should spend a small treasure on them…but also note, it could mean that. When we treasure someone, we hold them with high value and high regard. Your spouse is a treasure! They've given their heart to you. You may share children together, and you will spend more of your life with him/her than any other person on the planet. Take Valentine's Day as an opportunity to express their worth.
Here's ONE tangible, last-minute idea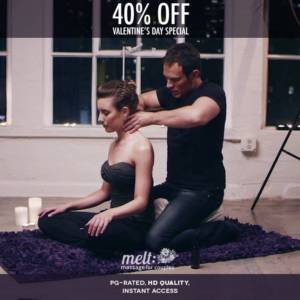 This year we're encouraging couples to do something that adds value to their marriage for years to come. We've decided to brush up on some massage courses we took last June, and I'm reminded how glad I am that we took the time to learn massage in the first place.
We love what we've learned about massage! It's roughly the cost of a fancy dinner or inexpensive jewelry ($89), but you learn skills you can use for a lifetime (truly). Plus, it's super romantic, builds intimacy, helps relieve stress, and costs nothing to do once you learn.
Our friends Denis and Emma created this incredible online massage course called "Melt". It's totally PG-rated, very well done, and the culmination of thousands of hours of experience. In their course, you'll learn easy, effective massage techniques and routines that you and your spouse can spend a lifetime perfecting.
They're running a special that's good until Feb 14th, 2016. You'll get roughly 40% OFF their entire Melt series, which includes instant access to their amazing instructional videos, free downloads (to print and place in a card), and the ability to watch the vids anywhere, on any device, any time.
Click here to learn more about Melt: Massage for Couples
By the way, when we first tried this, we both shared our experiences (for better or worse!) here:
Whatever you choose to do for Valentine's Day this year, let it show your spouse how much you treasure them and value the privilege of spending your life alongside them.
Have you heard of the The 31-Day Pursuit Challenge?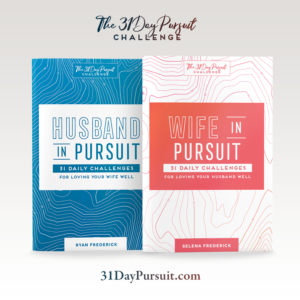 Every marriage begins with passion, purpose, and pursuit, but few stay that way. That's why we wrote Husband in Pursuit and Wife in Pursuit Together, they make what we're calling the 31-Day Pursuit Challenge. Couples are encouraged take the challenge together. We're already starting to hear stories of transformed marriages! Are you up for the challenge?